Creating a Connected Textile Community
WARP's mission is to foster a global network of enthusiasts who value the importance of textiles to grassroots economies. Our purpose is to exchange information, raise awareness of the importance of textile traditions to grassroots economies, mobilize textile enthusiasts and create conversations that result in action.
Our network is made up of weavers, academics, and interested supporters who value the importance of textiles to communities around the world.
Founded in 1992, WARP is a 501(c)3 nonprofit organization with members from across the United States, Canada, Central and South American, Europe, Africa, and Asia.  A newsletter is published quarterly telling of weaving, spinning, and dye cooperatives and other member projects from around the world. Once a year we come together for an annual meeting somewhere in the United States in a place rich in regional textile resources or history.
Deborah Chandler
President
Cheryl Musch
Treasurer
Sarah Saulson
Hedy Hollyfield
Vice President
Maren Beck
Sara Lamb
Co-Secretary

Beth Davis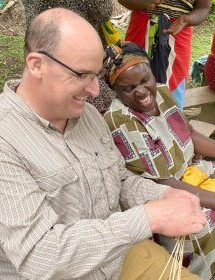 Cael Chappell
Co-Secretary
Elena Laswick