Catch up on your reading here! Our quarterly newsletters include WARP updates, member profiles, and textile stories from around the world. Please join WARP if you would like to receive a printed copy of the newsletters.
---
Spring 2022 Newsletter
The Red Dress Project
Selecting Artisans for IFAM
WARP's New Executive Director
UGAN Exhibit in Switzerland
From the Office
WARP Members Meet at CNCH
Save the Date: 2022 Annual Meeting
Member Profile: Elena Laswick
WARP on Social Media
Oaxaca, Mexico: Navigating Textile Narratives
Thanks to Volunteers!
WARP Community Leadership Award
New Members
"Textile Traditions of the Peruvian Highlands"
From WARP's President
Fundraising for COVID Relief Grants
Nominating committee Report
WARP Donors
Travel Opportunities
Peacewomen Across the Globe
---
Winter 2021 Newsletter
Virtual Board Retreat
Shipibo-Conibo Artisan
Textile Museum Happenings
2022 Meeting will be Virtual
Zoom Panels Scheduled
From the Office
Member Profile: Carol Ventura
"Alternative Media" Project
WARP Donors
R. L. Shep Award
Jackie Abrams
Can Amazon Support Fair Trade?
New Members
Giving Tuesday
Raffle Results
Buy Fair Trade
---
Fall 2021 Newsletter
Traditional Weaving in Sardinia
Baskets of Africa
2021 Annual Meeting
Zoom Panels Scheduled
From the Office
WARP Receives Generous Donation
Member Profile: Valarie Lee James
From WARP's President
Fair Trade Federation Update
WARP Donors
Weaving for Peace Exhibit
New Members
WARP Raffle
COVID Grant Beneficiaries
Scholarships to Annual Meeting
Kakaw Designs
---
Summer 2021 Newsletter
Times of COVID in Mexico
COVID's Impact on UGAN
2021 Annual Meeting to be Virtual
From the Office
Zoom Panels Exceptional!
Member Profile: Catherine Joslyn
WARP on Social Media
From WARP's President
WARP's 2021 Auction
New Members
2021 Annual Budget
Treasurer's Report
Business Networking Group
IFAM Returns to Santa Fe
Slate of Officers Presented
WARP Donors
Hesperian Health Guides
---
Spring 2021 Newsletter
Kakaw Designs
Covid-19 and #kaamnotdaan
2021 Annual Meeting to be Virtual
Assistantships Available
WARP Membership Information
From the Office
2021 Online Auction
Member Profile: Betsy Blosser
WARP on Social Media
From WARP's President
New Members
How Are You Faring?
WARP Donors
WARP Panel Donors
Nominating Committee
WARP Zoom Panels
WARP Business Members Network
Publisher of Books
---
Winter 2020 Newsletter
Stitching Beirut Back Together
Covid-19: An Inflection Point?
2021 Annual Meeting Cancelled
Thrums Books Joins Schiffer
WARP Membership Information
From the Office
Giving Tuesday
Member Profile: Mary Flad
WARP on Social Media
From WARP's President
Buy Threads Around the World
WARP Auction a Success!
Donations Sought for Food
Newsletter Deadlines
New Members
Acadian Brown Cotton
Book Review: Second Hand
Thanks to Donors
Buy Fair Trade
Books (and more)
---
Fall 2020 Newsletter
Otomi "Tenangos"
UPAVIM in the Time of Covid-19
WARP 2021
Gloria Davis Assistantships
From the Office
WARP Survey Results
Member Profile: Cathy Stevulak
From WARP's President
New Members
Book Review: Clothing Poverty
Book Review: How to Weave a Navajo Rug
2019-2020 Annual Report
Thanks to Donors
Costumes to Tell Stories
Maintaining Community
---
Summer 2020 Newsletter
Weaving Justice
Moroccan Embroidery
Next Year in Montana!
Thrums Books – Giving Back
From the Office
Nominating Committee Report
Member Profile: Christine Eber
WARP on Social Media
From WARP's President
New Members
Staying Home & Living Fair Traide
New from Thrums Books
In Memoria – Michele Whipplinger
2019 Financial Report/ Treasurer's Report
Thanks to Donors
Alpaca Spinners in Peru
Update: Artisans Beyond Borders
---
Spring 2020 Newsletter
Artisans Beyond Borders
Himroo Revival Project
WARP 2020: Agenda
WARP Membership Information
WARP's Story
Giving Tuesday
Member Profile: Mari Gray
WARP on Social Media
From WARP's President
Scholarships for Meeting Available
Travel Opportunities
WARP 2020: Need to Know
Board Nominations Sought
Travel Opportunities
New Members
Assistantships Available
Attention Vendors!
Live and Silent Auctions
Thanks to Donors
Limitless Horizons for Ixil Weavers
---
Woven Air: Luxury Textiles of Bangladesh
Argentine Textiles
2020 Annual Meeting
WARP Membership Information
From the Office
Giving Tuesday
Member Profile: Kate Colwell
WARP on Social Media
From WARP's President
Ask Me About WARP!
Artisan Textile Resource Guide Updated
New Members
Early WARP Member Dies
Travel Opportunities
Thanks to Donors
Fair Trade Federation Conference
Gifts of Meaning: "Choose Artisan" for Better Future
Mekong River Textiles
2019 Annual Meeting
From WARP's President
From the WARP Office
Marketplace Vendors
Member Profile: Marcia Bellas
Social Media Connections
Scholarship Student Reflects
Apprentices Provide Feedback
Textile Techniques: Central Asia: Ikat
WARP Annual Report 2018-2019
2019 Annual Meeting Minutes (Draft)
WARP 2017-2019 Budgets
Travel Opportunities
Host a Mayan Hands Sale
2019 IFAM Results
Thanks to Donors
New from Thrums Books
Meeting Photos
Master Weaver Chapuchi Ahiagable
Upcycled Baskets in Guatemala
Annual Business Meeting Agenda
Scholarship, Assistantship Awardees
Nominating Committee Report
From the WARP Office
2020 Annual Meeting
Member Profile: Dorinda Dutcher
From WARP's President
Textile Techniques: Polynesia: Tapa (Bark-cloth).
WARP Auctions
New Members
Selvedge World Fair
Thanks to Donors
Celebrating the Return of Spring
Interlacements: Threads and Lives
Spring 2019 Immigrant Yarn Project: Sharing What We Have in Common
Jhoole
2019 Annual Meeting Agenda
From the WARP Office
Scholarships Available
Auctions!
Member Profile: Hedy Hollyfield
From WARP's President
Correction: Sheer Elegance
Textile Techniques: India – Dabu Resist-Printing
Membership Committee
Board Nominations Sought
Job Opportunity
New Members
International Marketplace
New WARP Digital Press Kit
Giving Tuesday
Assistantships Available
Thanks to Donors
Annual Meeting Registration
FTF Conference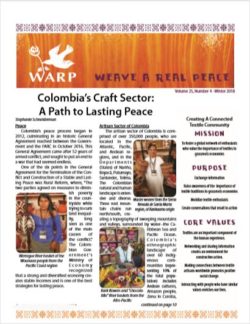 2018 Winter Colombia's Craft Sector: A Path to Lasting Peace
Path to Peace in Columbia
UGAN Craft Cooperative
2019 Annual Meeting
From the WARP Office
Member Profile: Molly Martin
Social Media Connections
From WARP's President
Giving Tuesday
New Members
Textile Techniques: Sweden – Lovikka Mittens
Recruiting for Membership
When a Woman Rises
The Next Generation: Las Tradiciones Vivan
Travel Opportunities
Indigo, Anil, Xiuquilitl, Pastel
Sheer Elegance Documentary
2018 Fall An Indigo-Adire Workshop with the Man Who Could be King
The Man Who Could Be King
On the Border with Christine Eber
President's Column
WARP's New Coordinator
Membership Information
From the Office
A Word from Thrums
Member Profile: Kelsey Wiskirchen
Social Media Connections
Scholarship Students Reflect
New Members
2018-2019 Newsletter Copy Due
Textile Techniques: Italy – Jacquard Looms
WARP Annual Update
Minutes – 2018 Annual Meeting
A Leap of Faith
FTF Update
Travel Opportunities
Meeting Photos
2018 Summer The Triple Role of Textiles: Insights from Syrian Refugees
Alpaca Clothing in Equador
WARP Bulletin Board
Member Profile: Barbara Scott
Auctions at Annual Meeting
Carol Hayman Exhibit
New Members
Textile Techniques: Jordan – Camel Hair Shawl (and more)
From the WARP President
2019 WARP Meeting in DC
Marketplace at Annual Meeting
WARP Budgets 2017-2018
Alice Brown Scholars Named
Thrums Books Receive Awards
Thanks for Donors
Travels
Nominating Committee Presents Slate
Threads Around the World!!
Katya Ya'a Urgent Appeal
2018 Spring Threads: Changing Lives Stitch by Stitch, now available on DVD
THREADS
Reimagining Tradition
WARP Meeting Coming Soon
Where Networking Happens
Wither Goest WARP?
Member Profile: Nicole Giacomantonio
Auctions!
New Members
Textile Techniques: Kaitag Embroidery
Member Directory Available
From the WARP President
FTF Conference
Tips for Using Google Groups
Nominating Committee
Marketplace
Peruvian Textiles in a Box
Alice Brown Scholarships Available
Thanks to WARP Donors
Post Meeting Tour
Winter 2017 Queen Amina Embroidery, Annual Meeting 2018, Celebrating WARP's 25th Anniversary
Queen Amina Embroidery
Dolls to Celebrate Maya Traje
2018 WARP Meeting in Iowa
From the Office
Member Profile: Joan Ruane
Thanks to WARP Donors
Textile Techniques: Aran Sweaters
New Members
From the WARP President
WARP on the Web
WARP's 25th Anniversary
Letters
Is Artisan Work Sustainable
Turkish Artisans
Around the World with Semester at Sea
Fall 2017 Women Artisans of Morocco, Welcome New Leaders, Updates, Opportunities
Women Artisans of Morocco
Thrums Books
WARP's New President
From the Office
WARP Board Update
Member Profile: Lolli Jacobsen
Travel Opportunities
Update from Fair Trade Federation
A Year Well Spent
New Members
Textile Techniques: Mexico
Rebozo Fringes
Special Section:
2016-2017 Annual Update
2016-2017 Budget Report
2016-2017 Treasurer's Report
Scholarship Students Reflect
Young Members' Initiative
Evolution or Revolution?
Summer 2017 Chaguar Textiles, Farewells and Nominations, Three Alice Brown Memorial Scholarships Awarded
Chaguar Textiles of Wichi
My Passion for Hmong Story Cloth
Reading List for Oaxaca Travelers
2017 Business Meeting Agenda; Membership Information
Farewell as President – Cindy Lair
Member Profile: Cheryl Musch
Three Receive Alice Brown Memorial Scholarships
Textile Techniques: Suzani Embroidery
Happy 25th Birthday to WARP
Blue (Indigo) Sundays
Nominating Committee Presents Slate for Board Members
Spring 2017 Meeting Details, Strategic Planning, Weaving Traditions
Preserving Zapotec Weaving Traditions
Njabini Wool Crafters
2017 Meeting Agenda, Special Scholarships Available, Alice Brown Memorial Scholarships
Consider a WARP Board Position
Member Profile: Susan Schaefer Davis
Tours: Morroco and Bhutan
WARP Strategic Plan
Textile Techniques: Scotland: Waulking
WARP Goes to MAFA
Tinkuy 2017 November 8 – 11
Irmgard Weitlaner-Johnson
Chiapan Weavers to WARP
Winter 2016 Announcing Details for Oaxaca in 2017!
Tentmakers of Egypt
Aleppo's Great Bazaar: A Eulogy
2017 Annual Meeting in Oaxaca
2017 Membership Information
Member Profile: Sara Lamb
Best News You Didn't Know
Textile Techniques: Why India?
Birth and Rebirth to be published
Taproot video
Fall 2016 Report on 2016 Annual Meeting
Summer 2016 2016 Annual Meeting July 8-12 in Santa Fe!!
Spring 2016 See details for 2016 Annual Meeting in Santa Fe, NM

Bosnian Folk Textile Traditions in Jeopardy Without the Grandmothers
Ruraq Maki: Empowering Women in Prison
Save the Date: 2016 WARP Annual Meeting / IFAM in Santa Fe July 8-12
Welcome Rita Chapman
New Members
WARP YouTube Videos
Letters: Help Wanted
2015 Alice Brown Scholarship Students
Member Profile Columnist Needed
Textile Techniques: Estonian Hand Knit Mittens
Seeds for Fiber and Food
Warp on the Web
2016 Fair Trade Federation Conference
Target to Sell GoodWeave Rugs
Artisan Textile Resource Guide, 2nd Ed.
Celebrate International Batik Day
Katyi ya'a Revives Native Cotton Growing, Spinning, Weaving in Oaxaca
Traditional Weavers of Guatemala: Their Stories, Their Lives Debuts
2015 Annual Meeting Summary
Membership Information
From the Prez
WARP Governing Board
Artisan Textile Resource Guide, 2nd Ed.
Thanks to WARP Donors
WARP Media 101
2014 Accomplishments
Textile Techniques: Zari Brocade
New Members
Work named Best of Show
Special Section: 2015 Annual Meeting Minutes, Financial Report
Guatemalans Reject GMO Seed
Annual Meeting Photos
Fifth Generation Weaver in Bhutan Continues Textile Traditions
Threads of Life: An Update
2015 Annual Meeting / Presenter Bios / Registration Form
WARP Seeks Administrative Coordinator
Member Profile: Judi Jetson
New Members
Connections
Thanks to WARP Donors
Textile Techniques: Matyo Embroidery
Kuba Textiles Exhibition
Marketplace!
International Folk Art Festival
Auctions Promise Treasures, Fun
Bhutanese Weaving Classes in US
Rituals and Textiles in Peru
The Ngurunit Basket Weavers
WomenWeave: An Update
Artisan Textile Resource Guide Available Electronically
2015 Annual Meeting in California
Rugmark Founder Receives Nobel Peace Prize
Member Profile: Susan Strauss
Connections: Spinning Competition Builds Bridges
Textile Techniques: Kilt Hose
Shop Your Values
Tintes Naturales from Guatemala
Indian Weaving Traditions Continue
Nilda Callañaupa Alvarez Receives Artisan Hero Award
Rangsa ni Tonun: North Sumatra Video
Member Profile: Susan Weltman
Textiles Techniques: Vodou Flags
Celebrate Learning to Weave
Borucan Weavers Conquer Floor Loom
Artisan Resource Guide
Traditional Saudi Arabian Dresses
2014 WARP Annual Meeting: Creating a Connected Textile Community
Recycled Huipiles?
Scholarship Recipients Reflect
Peru – 2D Embroidery
2013 Annual Report
Suzani Embroidery Lives on in Uzbekistan
Tinkuy de Tejedores: A Gathering of Weavers
WARP's 2014 Annual Meeting
Textile Techniques – Piña Cloth
Member Profile: Katie Simmons
Women of the World: Textiles and Tradition
The Dobby/Jacquard Hybrid Sari of Bangladesh
PUCHKA Peru Weaves a New Pattern
Sewing Confidence Presentation at WARP 2013
Textile Techniques – Smocking
Indian State to Improve Condition of Weavers
Cambodia Community Provides Opportunities
Free Access to Plans for Ergonomic Weaving Bench
Member Profile: Irene Laughing Cloud Schmoller
Noble Journeys
Alice Brown Scholarship Recipients Reflect on Annual Meeting
Textile Techniques: Miao Textiles, Part 2: Shiny Cloth
Special Section: 2011 Annual Report/2012 Annual Meeting
Weft Ikat Weaving Brings Change to Rural District in India
Knitting with Imagination in Peru and Kenya
Cultural Cloth Promotes Women's Work
Member Profile: Deb Brandon
Textile Techniques from Around the World: Miao Textiles, Part 1
Ikat Dyeing and Weaving in Uzbekistan
Sewing Peace in Afghanistan
Contribute to the Full Moon Banner
Book Review: Textiles: The Art of Mankind, by Mary Schoeser
Textile Techniques from Around the World: Ghana – Adinkra Cloth
Louie Garcia and the Pueblo Men's Cotton and Weaving Project
Trading Textiles for Solar on Taquile Island
The Kashmir Shawl Today
Artisan Tour to Ayachucho, Peru
Folk Art Market Provides Business and Marketing Expertise
Shopping with Simplicity – Our Holiday Challenge
Textile Techniques – Embroidered Kantha Quilts
News from the Center for Traditional Textiles of Cusco
Costa Rica and Guatemala: An Exchange
Weaving as Therapy
Why Does It Cost So Much? Part II: Retail Stores
Member Profile: Leslie Grace: Bridging Cultures
Textile Techniques – Turkey: Felted Mantles
Wari Exhibit at Cleveland Museum of Art
Bilbert "Bobbo" Ahiagble: 1944-2012
Reviving Natural Dye Methods a Worldwide Effort
Reflection and Renewal: Celebrating What We Are
WARP Does Morocco
Why Does It Cost So Much? Buying There vs. Buying Here
Weave a Universal Web of Friendship
Member Profile: Teena Jennings
Alice Brown Scholarship Recipients Reflect on Annual MeetingTextile Techniques – Turkey: Hats and Dervishes
Special Section: 2011 Annual Report/2012 Annual Meeting
Kushu Techniques of Bhutan
Weaving Hand
2012 Annual Meeting
Project Update: Njabini Wool and Weaving Workshop
Travel Opportunities
Alice Brown Scholarship Recipients Announced
Textile Technique – Faroese Shawls
What Does it Mean to be a Fully Committed Fair Trader?
Happy Birthday WARP!
Sadu Textiles Receive Intangible Heritage of Humanity Designation
WARP's 2012 Annual Meeting Celebrates 20th Year!.
Book Review: Global Girlfriends, by Stacey Edgar
Hand to Hand Seeks Input from Membership
Morocco in May and, especially for WARP members, in June
Member Profile – Eric Mindling: Creating Awareness in Mexico
ClothRoads Launches Online Marketplace
Textile Technique – Morocco: Berber Rugs, Part II
Return of the Corn Mothers Exhibit Travels to Denver
Host a Fair Trade After-Christmas Sale
20th Annual WARP Conference, Celebration – Agenda & Registration
Women Hold Up Half the Sky Exhibit
Rug Hooking in Guatemala
Member Profile – Sarah Saulson: Achieving a Balance
WARP's 20th Anniversary!
International Folk Art Market – 2011
Next Year in Santa Fe!
Textile Technique – Morocco: Berber Rugs
Fair Trade in Action
Threads of Life Update
Textile Museum, George Washington University to Affiliate
Travel: Get Hooked on Guatemala
Volunteering in Guatemala: Oxzlajuj B'atz'
Annual Meeting: A Confirmation of Core Values
The Traveling Textile Sisters
From the WARP Office
Member Profile – Gloria Miller: Sister of Mercy, Nurse, Weaver
Mayan Hands, UPAVIM Provide Opportunity to Raise Money for WARP
Book Review: Maguey Journey: Discovering Textiles in Guatemala
Textile Technique – India: Leheriya and Mothra
Special Section: 2010 Annual Report/2011 Annual Meeting
Hand to Hand
Tinkuy de Tejedores
Wool Weavers of Western Rajasthan
Member Profile – Jackie Abrams: A Teacher in the Truest Sense
FTF: Fueling the Engine of Growth
Textile Technique – Italy: Assisi Embroidery
Hand to Hand: Kenyan Weavers and Basket Makers
Hand to Hand: How One Guild Assists Artisans
Saganishiki: A Uniquely Japanese Weaving Technique
Textiles and Traditions in the Marketplace
Work with Moroccan Weavers
Ramses Wissa Wassef Art Centre
Plans for WARP 2011 Annual Meeting Gearing Up
Member Profile – Linda Bowden: Army nursing to Saganishiki
Rachel Biel, Textile and Fiber Art List
FTF: Reconnecting our Communities
Textile Technique – British Isles: Ganseys
A Bolivian Quechua Weaver's Comments on TINKUY 2010
Shop Fair Trade this Holiday Season
Craftspring Shares Kyrgyz Stories
Maguey Textile Traditions Continue in Guatemala
Hand to Hand: PAZA
Santa Fe International Folk Festival
Member Profile: Nilda Callanaupa Alvarez
Dream Weavers: Macy's Sells Fair Trade Baskets from Rwanda
Textile Techniques: India – Shisha Embroidery
California Guild and Guatemalan Weavers Inspire 'Hand to Hand'
Untangling Threads: Female Artisans in Morocco's Rug Weaving Industry
Weaving Together Brings Sense of Unity
PAZA Revives Traditional Dyeing Techniques
ABM Scholar Kelsey Wiskirchen
Hand to Hand
Member Profile: Judy Allen
FTF: Transforming Our Global Community
Textile Techniques: Bolivian Jalq'a Weaving
Textile Workshop at Camphill Village
Member Profile: Judy Newland
Textile Techniques: Paj Ntaub Tib Neeg: H'mong Story Cloth
Moroccan Rug Society Reactivated
Anyi – Improving Lives and Preserving Culture in Peru's Highlands
Handcrafts Bring Income, Dignity, Hope to Haitian Artisans
Sheep is Life Festival
History and Use of Natural Dyes in the Americas Tour, Workshop
Weaving Cultures of Bali and Timor: Textile Tour
In Search of Mexican Rebozo Traditions
Member Profile: Candy Meacham
Textile Techniques: Quilting – Worldwide Techniques
Textile Trip to Bali
Documenting Warp Ikat in India
HAND/EYE: a Labor of Love
Bench Making Has Begun
Thirteen Threads (Oxlajuj B'atz') Empowers Women
Jane Mintz, founder of Maya Traditions
Spinning, Weaving Projects Helps Save Birds in Kenya
Save the Date: WARP 2010 April 30-May 2 in AZ
WARP Expands Online Networking
Member Profile: Cindy Lair
Textile Techniques: Indus Valley: Ajrakh
Turn Over a New Leaf for Fair Trade
How the Recession Affects Artisans
Chautari: Bhutanese Women's Fiber Arts Cooperative in Vermont
Hand/Eye Magazine
Gathering of Weavers of the Americas
Ella Baker, a Woman of Vision and Conscience
Project in Philippines Assists T'boli Weavers
Help Wanted: How to Develop Sustainable Support for Artisans
Chin Weavers Maintaining Textile Traditions in Indianapolis
ArtisanWork.org Provides Resources for Artisans
Introducing Judy Allen: WARP's Administrative Coordinator
2009 Alice Brown Memorial Scholars
Member Profile: Kathryn Keegan
Textile Techniques: Cook Islands – Tivaivai
Special Section: 2008 Annual Report/2009 Annual Meeting
Fair Trade Day and FTF Conference
Manuela & Esperanza: The Art of Maya Weaving documentary
A Good Day to Dye!
Multi-talented Kente Cloth Weaver Adapts to Market Demands
The Wrap on Ikat, part I
Weaving in Kenya with Floor Looms
Marketplace@Annual Meeting: Opportunity to Sell, Recycle
Member Profile: Mary Joan Ferrara-Marsland
Textile Techniques: Worldwide Backstrap Weaving
Advocacy Project Supports Social Justice
Sinamay Loom of the Philippines
Fair Trade: Efforts Continue to Eliminate Child Labor
Río Negro Memorial Textile
Textile Study Tours with TSA
Peru Field School
Navajo Exhibit Planned for CU
Seeking Funds to Reprint Artes y Artesanías Mayas
Maria Cuc Jiatz Receives Folk Art Apprenticeship Grant
Indigenous Silk Weaving in Madagascar
2009 Annual Meeting Update
Textile Techniques: Silk Brocade from Laos
RugMark Traveling Photo Exhibit: Faces of Freedom
The KamiAmi Women of Pokuase, Ghana
Fair Trade: Visit Highlights Fair Trade Difference
Field Notes from Peru
Guatemala Scholars' Network Conference at Vanderbilt University
Recollections from the Textile Society of America Symposium
Traditions Mexico adds Slideshows, Articles to website
Maine Community Supports Nicaraguan Health Clinic
WARP at Convergence
Endangered Threads Videos Shown in California Museums
Member Profile: Alessandra L'Abate Cope
Textile Techniques – Polynesia: Featherwork
Natural Dyeing in Teotitlan del Valle, Mexico
RugMark Annual Report available online
Superb Slow Textiles: Taykeo Gallery
Fair Trade Institute and Fair Trade Resource Network Collaborate
Annual Fair Trade Federation Conference in Austin
In Memory of Alice Brown
Ancient Peruvian Textiles Workshop
Museo Textil Oaxaca
Mayan Hands: Working in Guatemala and in the US
Scholarship Recipient Bo Choi
Solar Trade on Taquile
Member Profile: Louise Todd Cope
Textile Techniques – Russia: Valenki
Microcredit Summit to be in Bali
Understanding the Actors in Fair Trade
Aid to Artisan's Market Readiness Program
Special Section: 2007 Annual Report/2008 Annual Meeting
Lubugo: Appreciating the Value of Ugandan Bark Cloth
Member Profile: San Juan Weavers Guild: Celebrating Weaving and Spinning
Textile Techniques – India: Bandhani
Baale, Uganda: the Challenge to do More
Teaching Sectional Warping in Guatemala
WomenWeave Projects in Bombay
Snapshots Along the Mekong: Handwoven Cloth in Thailand and Laos
Solar Cooking + Palm Straw Weaving
Motifs in Migration
Visit to Morocco Offers Rich Experiences
Annual Meeting WARP's Most Significant Activity
Member Profile: Adrienne Sloane: Artist, Traveler, Teacher, Activist
Textiles and Technology Partner to Provide Light
Textile Techniques: Ghana: Ewe Kente Cloth
Weave, Weave, Weave Us Together: An interfaith children's project in NC
Textile Society of America Provides Forum for Information Exchange
Endangered Threads Documentary – 100 Years of Maya Weaving
RugMark Raffle
WARP Updates Mission, Core Values
Member Profile: Robyn Josephs: A Weaver of Fibers, Souls, Words
Textile Techniques: Peru-Shipibo Textile Painting
Weaving and Dyeing in Daboya, Ghana
Museum Textile Exhibits Explore Themes of War, Politics, and Patriotism
Traveling in Bhutan
International Ethical Fashion Show added to DC Fashion Week Line Up
2008 Pre-Columbian Textile Workshop in Peru
Rwandan Knits Provides Income for Refugee Women
Member Profile: Pegi Bevins:Self-Portrait of a Passionate Weaver
Textile Techniques: Sashiko-Japanese Quilting
Scaling Up: An Update on the Ergonomic Bench
Mapula: An Embroidery Project in South Africa
The Basket Women of Bolgatanga
2007 Annual Meeting: Fiber Friendships Cross Cultural Boundaries
2006 Annual Report
Hebron Embroidery Project Assists Palestinian Artisans
Member Profile: Chris Leith: Teacher, Artist, Networker
Textile Techniques: Nalbinding
The Ixchel Museum of Indigenous Dress of Guatemala
Ribob Village Silk Weaving Project
From the TSA ListServ: Documenting Mexican Textiles
A Historic First: The Black Mesa Blanket
Weaving Cultures of Bali and Flores: A Textile Tour
STITCH Delegation Participants to Learn Effects of Free Trade
Maya Weavers and their Textiles
Weaver's Wheel – Ethical Textiles Promotes Khadi Cloth and Way of Life
Member Profile: Vee Pee Purushothaman
Peruvian Discontinuous Warp Scaffolding
Produce Globally Buy Locally
2007 Annual Meeting Details
AfricanCraft.com Provides Opportunities
Fair Trade Federation Growing Fast
Selling Yarns: Exploring Australian Indigenous Textile and BusinessThoughts from the 2006 Annual Meeting
Member Profile: Marilyn Anderson
Textile Techniques from Around the World: Bhutanese Backstrap WeavingTejido Indigena, El Chile, Nicaragua
Travels in Namibia
WEAVE: Working to Support Karen Refugees in Thailand
Textile Travels – Mali, Morocco, Bali
WARP Connects Textile Designer in Oklahoma with Thai Weavers
2006 Annual Meeting a Rich Mix
Member Profile: Sara Goodman
Kazakhstan-Syrmak Carpets
deYoung Museum
Handwoven Baby Blankets Make a Difference
Sister Member: Habitat Integrated Pakistan
Annual Meeting Promises Learning, Networking
Member Profile: Kathleen Mossman Vitale
Textile Techniques from Around the World: Zimbabwe-Sadza Barik
Bullthistle Rag Enterprise
Pull-out Update to 2005 WARP Membership Directory
Morocco in the Spring
2005 Indonesian Indigenous Weavers' Festival
Member Profile: Brecia Karlovic-Logan
Textile Techniques from Around the World: Molas
Backstrap Weavers in Guatemala Try Out an Ergonomic Seat
Tejedoras del telar de cintura prueban una silla ergonomica en Guatemala
"Party for a Cause" Benefits Disabled Weavers in Cambodia
Ivory Coast Strip Cloth Weavers Give Ikat Workshop in Switzerland
Letter from Sara Goodman: A Long Awaited Trip to Bali
Fairloom Partners with Bobbin-Lace Makers
Center for Traditional Textiles of Cusco Opens New Gallery
Weaving Cultural Connections
Textile Techniques from Around the World: Bedouin Weaving
Artisans in Peru and Bolivia Invest in Solar Technology
Artesanos en Perú y Bolivia Invierten en Tecnología
Solar
Straw Weavers in Oaxaca Learn Solar Cooking
Symbolism of Adinkra Cloth Evolves and Fascinates
Master Lao Weaver to Visit
Textile Techniques from Around the World: Finland-Rya Rugs
Traditional Use of Natural Indigo in West Africa
Reviving Indigo Use in El Salvador
Textile Techniques from Around the World: Inuit Skin Embroidery
Letters: the Gullah People
"Daughters of the Dust" Gives Taste of Gullah Culture
Textile Techniques from Around the World: Japanese Fish Printing
Traveling to Peru the Fair Trade Way
Haoua Cheick Traoré: Businesswoman and Consultant
Silk Moon Textile Arts Gallery Celebrates Art, Education, Culture
Working with Artisan Groups in Other Countries Takes Time
Textile Techniques Around the World: Swedish Two-End Knitting
Teaching and Learning from Weavers and Dyers in Ghana
Miriam Leth-Espensen: Weaving and Working for Peace
The Changing Textile Traditions of Nigeria
Flora MacDonald: Working to Changes Lives in Afghanistan
One Bridge, Many Journeys: Chuvashia, Russia!
Louise Meyer:Creating Opportunities,Connecting African Artisans
US Department of Commerce Import/Export Resources
Textile Techniques Around the World:Huipiles of Guatemala
Sister-Member Albertina Lopez de Martin
Flora MacDonald:Working to Changes Lives in Afghanistan
Afghan Knitting Patterns Now Available
In Memory of Amidou Coulibaly (1946-2004)
Tres Manos:Providing Skills for Life
Gallery to Feature East Asian Textiles
STITCH Women 's Language School Delegation
Textile Techniques Around the World:Double-Ikat Weaving in India
Fair Trade in the Media
Older Newsletters
2003
2002
2001
1999
1998