---
WARP Business Networking Group
(WARP Members Only)
Wednesday, September 21st at 4 pm Eastern
Please email info@weavearealpeace.org to receive the Zoom link.
WARP's Business Networking Group meets monthly to help WARP business members network and learn from each others' business models. Each month, the group explores a different topic of interest. This is a great forum for sharing resources, discussing best practices, and learning about new marketing developments from peers. The business networking group includes members of various levels of expertise – from those who have had decades of experience in the field, to those who are just learning. The group includes textile wholesalers, retailers, design consultants, tour operators, and more.
Any WARP member interested in joining is welcome to attend the discussions, which are regularly held on the 3rd Wednesday of each month at 4 pm US Eastern time. Please direct questions to Maren Beck, the Business Networking Group chair, at: maren@hilltribeart.com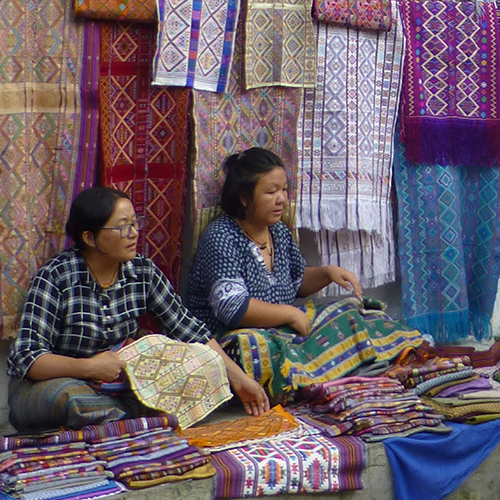 ---
WARP 2022 Textile & Book Raffle
Ticket Sales: September 23 – October 9th
Drawing: October 10th
Visit Raffle Page Here
WARP is holding a textile & book raffle this month, and we have an exciting collection of donations from WARP members! Tickets will be on sale through the WARP website from September 23rd through October 9th, with the drawing held on October 10th. Tickets cost $5 each, and you can choose which items you are interested in. We will send an email when ticket sales are open, and you can also check this page for the shop link.
We have a collection of Bolga baskets and a collection of Kente Cloth from Ghana donated by Baskets of Africa, a beautiful Guatemalan table runner from Ixil Collective, a loom and weaving class from Kakaw Designs, a beautiful manta embroidery from Artisans Beyond Borders, and so much more. Thank you to our generous donors for this event!
---
Meet a Member: Fireside Chat with Elena Laswick
(WARP Members Only)
In English: Wednesday, October 12th at 4 pm Eastern
En Español: Thursday, October 13th at 4 pm Eastern
Click Here to Register
Our October Meet a Member Fireside Chat is with WARP Board Member Elena Laswick.
Elena Laswick grew up in Tucson, AZ, on a steady diet of mariachi, beans, folklórico, and Navajo rugs, which developed her sense of belonging somewhere between Latin America and the US and is why she is passionate about textiles, indigenous rights, and cultural preservation. She resides full time in Nebaj, Guatemala where she works with Maya Ixil weavers on small-scale private label design projects in her free time (as Ixil Collective). She also liaises with artisans in different parts of Guatemala and Peru (through a business partner in Cusco), as Amano Marketplace, all while working remotely for Capital Access as a Quality Control Manager, giving out COVID Emergency Rental funding in Pennsylvania.
Ixil Collective is a collaboration with Maya Ixil weavers living in the towns of Chajul, Cotzal and Nebaj in the Quiché region of Guatemala. Ixil Collective was created to help these remote artisans earn a more substantial market share. Amano Marketplace is a platform for Latin American artisans to share their designs and stories, where you can learn more about traditional art forms and find unique, handmade items. Join us for the Fireside Chat with Elena to learn more about these projects!
Please note: This event is limited to WARP members only. If you would like to attend and are not yet a member, please join WARP here.
---
Continuing Textile Traditions: Around the World in 80 Fabrics
Free & Open to All
Saturday, October 15th at 1 pm Eastern
Click Here to Register
Around the World in 80 Fabrics (ATW80F) is a non-profit that weaves people and fibers together for the planet. Through the documentation of sustainable textile practices, ATW80F raises awareness of the environmental, climate, human rights and overall human health impacts of our petroleum-based fast-fashion wardrobes.
Around the World in 80 Fabrics poses the question, "Can our clothing choices help repair and restore instead of destroy our dwindling natural and cultural resources?" To answer that question, the ATW80F team invites us to join in exploring common and uncommon fiber possibilities and the makers behind them. They are creating an amazing traveling educational quilt of 80 fabrics showcasing the ecology of textiles from throughout the world. From the wisdom of diverse indigenous cultures to cutting edge innovations in recycling and biofabrication, they celebrate the quest for nature-friendly alternatives to fast fashion pollution.
Join us on Saturday, October 15th at 1 pm US Eastern time for a conversation with the ATW80F team: Co-Creators, Tierney Thys and Carroll Dunham, and Outreach Director, Leslie Robertson.
---
Meet a Member: Fireside Chat with Cael Chappell
(WARP Members Only)
Wednesday, November 9th at 1 pm Eastern
Registration opening mid-October
Our November Meet a Member Fireside Chat is with WARP Board Member Cael Chappell. Cael's basket making grows from his love of basketry. Seventeen years before weaving his first basket, Cael founded Baskets of Africa, a fair trade verified company committed to economic empowerment for basket weavers from over 20 countries. Traveling across Africa to meet weavers, Cael discovered that basketry is as diverse as it is universal. After years of commitment to the art of basketry and the weavers in Africa, Cael wove his first basket in 2017. He is inspired by global weaving traditions to create his own unique baskets. You can view Cael's handwoven baskets online here. Cael enjoys working full time on his Baskets of Africa project both to support weavers, and to be able to offer an amazing array of African baskets to collectors around the world. Join us for this Fireside Chat with Cael to get to know him and learn more about his work!
Please note: This event is limited to WARP members only. If you would like to attend and are not yet a member, please join WARP here.
---
Continuing Textile Traditions: Indigo Around the World
Free & Open to All
Saturday, November 19th at 1 pm Eastern
Registration Opening Mid-October
Indigo has been used to dye textiles for thousands of years, spanning cultures and continents. The blue produced by indigo is recognized and beloved worldwide, while the plant processing methods and textile designs produced in various cultures are quite diverse. WARP's October panel discussion will feature contemporary textile artists who work within various indigo traditions.
Gasali Adeyemo was born in the village of Ofatedo, Nigeria. His mother was his first teacher in learning the traditional arts of the Yoruba Tribe, and in 1990 he attended the Nike Center for Arts and Culture, where for 6 years he studied traditional Yoruba batik, adire eleko, tie-dye and indigo. Gasali now travels worldwide teaching and exhibiting his work, sharing the arts and culture of the Yoruba people of Nigeria. Hanga Yoshihara-Horvath is an embroidery artist living in Tokushima Prefecture. She combines age-old Japanese indigo dyeing techniques with the embroidery techniques of her home country, Hungary, to create new fabric designs drawing on tradition.
---
---