---
Continuing Textile Traditions: Acadian Brown Cotton, 250 Years of Louisiana History
Free & Open to All
Saturday, August 20th at 2 pm Eastern
Click Here to Register
Our August panel discussion will feature the very successful Acadian Brown Cotton Project, which strives to document, preserve and promote Louisiana's unique natural brown heirloom cotton. The project will be presented by the Acadian Brown Cotton team, talking about the project from many angles, all contributing to enriched lives and a boost in the local economy.
Jennie Lallande, Acadiana Grower Alliance, farmer, ginner, and educator, will highlight the agricultural aspects of the project, including the importance of regenerative agriculture in the climate change struggle. Meagan Phipps, Textile Designer and Fiber Shed Liaison, will talk about the development of a local Fiber Shed and what that means for Acadian brown cotton, local artisans, and the Field to Fashion movement. Randon Dufrene, ABC grower and business manager of Acadian Brown Cotton, will present the need for a local fiber mill and why Belfast Mini mill suits the project. Sharon Donnan, WARP member, documentary film maker, retired from a life in costumes and textiles, and founder of the Acadian Brown Cotton Project, will introduce these members of the team and others, giving us an overview of how it all began and what they have accomplished so far.
---
Meet a Member: Fireside Chat with Adrienne Sloane
(WARP Members Only)
Tuesday, September 13th at 4 pm Eastern
Click Here to Register
Our September Meet a Member Fireside Chat is with longtime WARP Member Adrienne Sloane. Adrienne is a mixed media artist with a focus in fiber techniques. Using iconic imagery, her work is frequently a visceral response to the moral and political landscape of the day. By visually addressing the frayed and unraveled places around her, Adrienne seeks to promote thoughtful dialogue about critical questions as we navigate the difficult times we live in. Her work has won many awards, has been widely published, and is included in permanent collections at the Philadelphia Museum of Art, The Fuller Craft Museum, the Goldstein Museum of Design, and The Kamm Collection. Click here to read a Boston Globe review of Adrienne's current exhibit, Peacework. Besides having exhibited and taught internationally, Adrienne has also worked on economic development projects with indigenous knitters in Bolivia and Peru. Join us for a chat with Adrienne on September 13th to learn more about her work and experiences!
Please note: This event is limited to WARP members only. If you would like to attend and are not yet a member, please join WARP here.
---
WARP Business Networking Group
(WARP Members Only)
Wednesday, September 21st at 4 pm Eastern
Please email info@weavearealpeace.org to receive the Zoom link.
WARP's Business Networking Group meets monthly to help WARP business members network and learn from each others' business models. Each month, the group explores a different topic of interest. This is a great forum for sharing resources, discussing best practices, and learning about new marketing developments from peers. The business networking group includes members of various levels of expertise – from those who have had decades of experience in the field, to those who are just learning. The group includes textile wholesalers, retailers, design consultants, tour operators, and more.
Any WARP member interested in joining is welcome to attend the discussions, which are regularly held on the 3rd Wednesday of each month at 4 pm US Eastern time. Please direct questions to Maren Beck, the Business Networking Group chair, at: maren@hilltribeart.com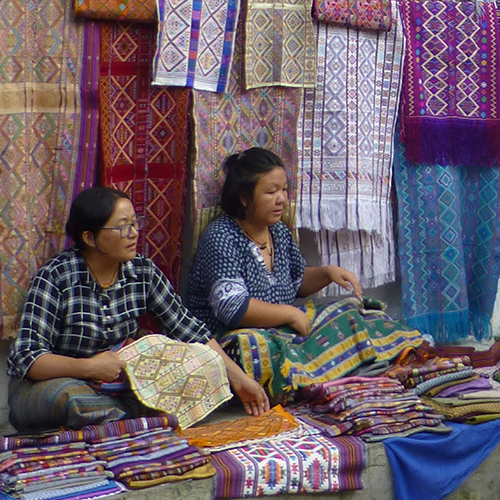 ---
---