---
Meet a Member: Fireside Chat with Vanina Bujalter
(WARP Members Only)
Saturday, May 7th at 1 pm Eastern (English)
Sunday, May 15th at 4 pm Eastern (español)
Tuesday, May 17th at 5 pm Eastern (English)
Click Here to Register
Our May Meet a Member Fireside Chat will be with Vanina Bujalter, who has been a WARP Member since 2013. Vanina was born in Buenos Aires. She has a degree in Psychology, but she found her true calling and has been dedicated to Textile Arts and Crafts for more than 35 years. At age fifteen, she began studying with her mother, Mimi Bujalter, one of the outstanding artists within the Argentine Textile Art Movement, and Founder of the Argentine Centre of Textile Art. With Mimi, Vanina studied classic and modern textile techniques, fiber dyeing, felt techniques, and handmade papermaking. Vanina has taught and exhibited throughout Argentina and internationally. Her work has won many awards, including the UNESCO Seal of Excellence for Handicrafts, and can be seen in museums and private collections around the world. We are thrilled to host Vanina for this series of Fireside Chats. You can follow Vanina on Facebook and Instagram, and also find her work online here.
Please note: This event is limited to WARP members only. If you would like to attend and are not yet a member, please join WARP here.
---
WARP Business Networking Group: Ethical Trade vs. Fair Trade
(WARP Members Only)
Wednesday, May 18th at 4 pm Eastern
Please email info@weavearealpeace.org to receive the Zoom link.
WARP's Business Networking Group meets monthly to help WARP business members network and learn from each others' business models. Each month, the group explores a different topic of interest. This month's meeting will be focused on Ethical Trade vs. Fair Trade: Does fair trade have the same meaning it once did? There was a study conducted by Aid to Artisans in which buyers (retailers) surveyed indicated that ethical sourcing was very important but fair trade certification (or verification) was not as important. What does that mean for us?
This is a great forum for sharing resources, discussing best practices, and learning about new marketing developments from peers. The business networking group includes members of various levels of expertise – from those who have had decades of experience in the field, to those who are just learning. The group includes textile wholesalers, retailers, design consultants, tour operators, and more. Any WARP member interested in joining is welcome to attend the discussions, which are regularly held on the 3rd Wednesday of each month at 4 pm US Eastern time. Please direct questions to Maren Beck, the Business Networking Group chair, at: maren@hilltribeart.com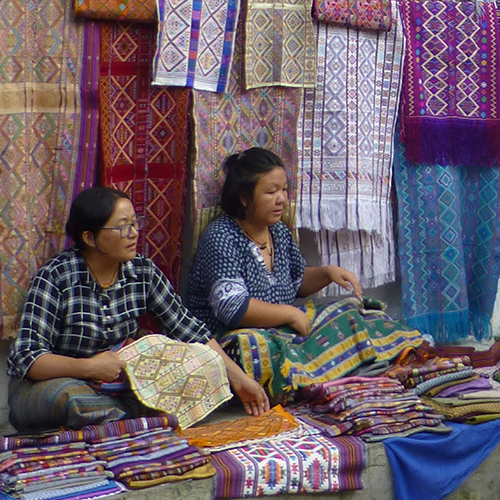 ---
Continuing Textile Traditions: The Voice of the Heirs of Tradition
Free & Open to All
Saturday, May 21 at 1 pm Eastern Time US (New York & Canada)
Click Here to Register
You are invited to join Weave A Real Peace for our upcoming panel discussion, Continuing Textile Traditions: The Voice of the Heirs of Tradition. For this program, we will hear from two young weavers in Peru who are working to continue the weaving traditions. There is no end of conversation about passing on traditions from grandmother to mother to daughter for millennia, but nearly always the speakers are outsiders or the adults who are doing the passing on. Rarely do we hear the youth speaking, those who are at the receiving end. CTTC, the Center for Traditional Textiles of Cusco, has a strong youth program designed to help keep traditions alive. WARP is thrilled to be giving the podium to two young women, teenagers involved in the program, to talk about what it means to them to be inheriting these traditions. Hilda Yesica Mamani Chura, 17, and Maysharon Quispe Ojeda, 18, are coming to tell us their side of the story. Both are currently students in Cusco Monday-Friday, studying accounting and teaching. They then return to their villages, Acha Alta and Patabamba, on weekends to maintain close family and community ties – and to take weaving lessons!
Please register to join us on Saturday, May 21, at 1:00 New York/Eastern Time US. This program is free & open to all.
---
Meet a Member: Fireside Chat with Kelly Manjula Koza
(WARP Members Only)
Saturday, June 4th at 1 pm Eastern
Tuesday, June 7th at 4 pm Eastern
Registration open mid-May
Our June Meet a Member Fireside Chat is with Kelly Manjula Koza, who learned of WARP in 2020. Kelly's background includes 30 years of volunteering with an NGO based in India as well as corporate work in technology, communications, and program management, and she senses an emerging connection between gizmo-based technology overload and the rising desire for handmade items, especially in fiber arts. Kelly works with the tessitrici artigianali— the women who maintain the art of traditional handweaving on the Mediterranean island of Sardinia. Seeking to preserve, protect, promote, encourage, and advance the tessitrici artigianali and the arts, culture, and heritage of Sardinia in a sustainable manner, she founded Sardinian Arts in 2013. In 2017, she produced and curated Sardinian Textiles: An Exhibit of Handwoven Art in San Francisco, which included related events such as Intrecciati, an intercultural fiber arts project. Kelly's documentary I Want to Weave the Weft of Time features the few remaining hand weavers of Samugheo, and she has started films about weavers working in two other areas/traditions in Sardinia. While Kelly gave many online presentations during the pandemic, plans for more in-person shows, trunk shows, presentations, and tours were slowed, but are again budding!
Please note: This event is limited to WARP members only. If you would like to attend and are not yet a member, please join WARP here.
---
WARP's 2022 Annual Meeting
Tradition, Innovation & Community Stewardship
Free & Open to All
June 24-26, 2022
Click Here to Register
Community stewardship includes both honoring the past and safeguarding the future. In many textile communities, age-old traditions merge with new innovations. For our 2022 conference, WARP will bring together speakers from textile communities around the world to discuss questions artisans face in our ever-changing world. How do weaving communities cope with issues of commercialization and cultural appropriation? What is the role of young generations in adapting for a sustainable future? What can we all do to give voice to weavers and improve the quality of life of textile artisans worldwide?
For this year's virtual conference, we are honored to host Chilkat weaver and teacher Lily Hope (Juneau, Alaska, USA) and Arushi Chowdhury Khanna (Mumbai, India), founder of LoomKatha as keynote speakers. We also have an exciting lineup of panelists joining us from 4 continents.
Please Click Here to view the full 2022 Annual Meeting Program.
---
2022 International Textile Auction
June 23-26, 2022
Click Here to view the Auction
WARP's much anticipated Online Auction will coincide with our Virtual Annual Meeting! There are incredible textiles, books, jewelry, weaving tools, and more from all over the world, donated by WARP Members & Supporters. Make sure you mark your calendar to place your bids on WARP's wonderful selection of unique textiles & handcrafts.
If you are have items you would like to donate, please fill out the donation form and send it to info@weavearealpeace.org. This fundraiser is made possible by the generous support of our donors!
---
---