by Rocío Mena
I think it's all about connections! People connecting each other, textiles connecting people. people connecting like threads. You always meet the right person and the thread just leads you to the next encounter. So we can connect to each other and learn so much from all the different people and cultures!
Being able to attend to an Annual meeting after so much time, and specially after the pandemic, made it so special! I think sometimes we forget how amazing these meetings are, until you go and experience them again. At least that happened to me!
The University of Kent is a beautiful place full of history. We could even visit a really interesting Museum about May 4th, 1970 Memorial.
The facilities are impressive and the local designers and artisans shared with us amazing projects around weaving, natural dyeing and slow fashion. They reminded us how important it is to create community and to help each other.
This year's scholarship recipients presentations were so interesting and multi-cultural. Chad Troyer from the US, Elisa Lutteral from Argentina. Jenny and Ashley Juarez Lopez shared with us their Guatemalan weavings and background. While Trisha Gupta shared her Indian American heritage.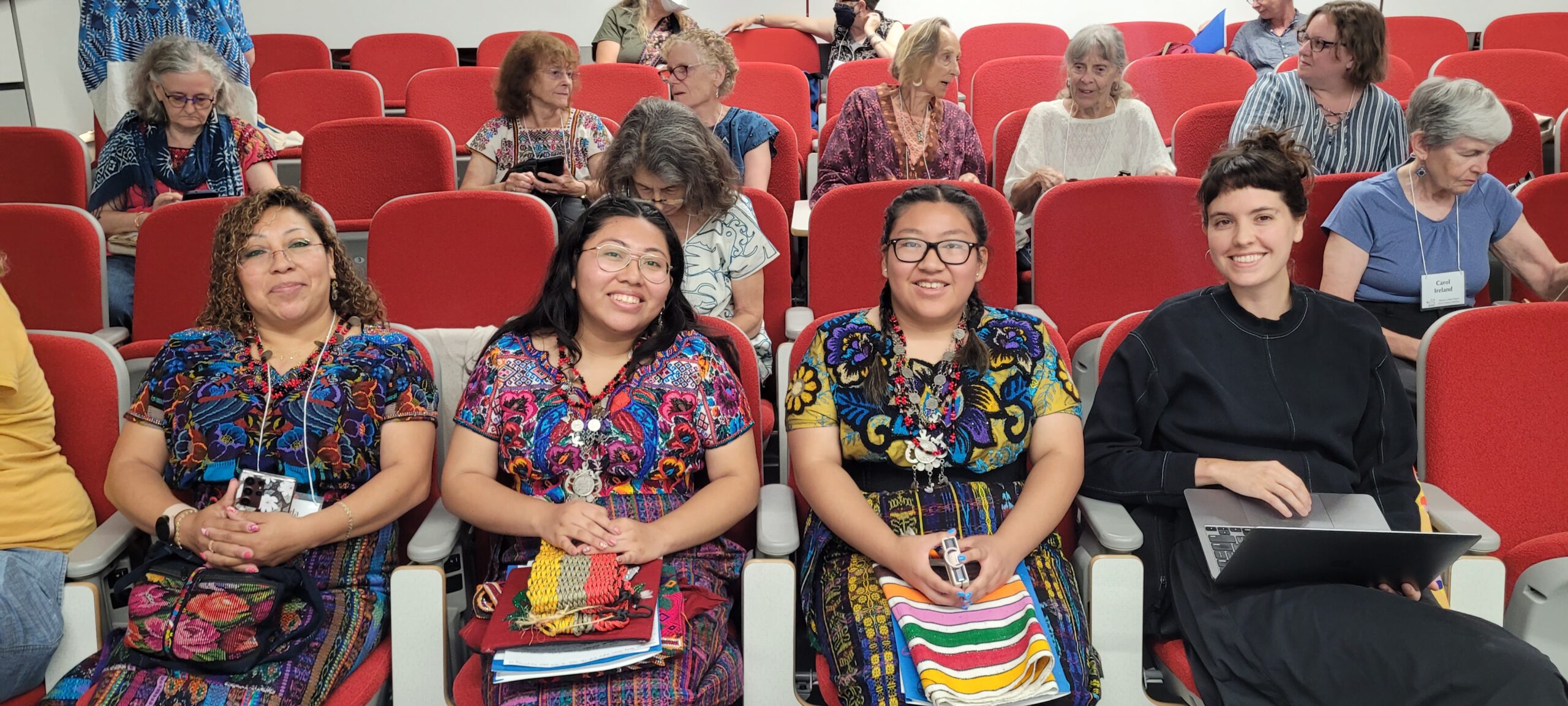 So many interesting presentations happened, and of course the marketplace full of beautiful artisanal textiles from all around the world.
This year there was also a Textile Art gallery exhibition which took place in Kent. This was the first one ever made on an Annual meeting. And I think it was a success! The pieces were exhibited during 2 months, and you can still see them by visiting the online site HERE.
At Saturday's night there was a fashion show and a live auction. All accompanied by food, beverages and good company.
Definitely this meeting reminded us why the in-person meetings are so important! And just how amazing it is to connect with old friends and make new ones.
We hope you can join us for our 2024 Annual Meeting in Golden Colorado. From May 16th to May 18th.
Rocío Mena
---
Encuentro anual de Ohio
Por Rocío Mena
¡Creo que todo se trata de conexiones! Personas que se conectan entre sí, textiles que conectan personas. personas que se conectan como hilos. Siempre conoces a la persona adecuada y el hilo simplemente te lleva al siguiente encuentro. Para que podamos conectarnos entre nosotros y aprender mucho de todas las diferentes personas y culturas.
Poder asistir a una reunión anual después de tanto tiempo fue muy especial, especialmente después de la pandemia. Creo que a veces olvidamos lo increíbles que son estos encuentros, hasta que lo volvemos a experimentar. ¡Al menos eso me pasó a mí!
La Universidad de Kent es un hermoso lugar lleno de historia. Incluso se puede visitar un museo muy interesante que habla sobre los acontecimientos del 4 de mayo de 1970 en ese plantel.
Las instalaciones son impresionantes y los diseñadores y artesanos locales compartieron con nosotros increíbles proyectos en torno al tejido, el teñido natural y la moda lenta. Nos recordaron lo importante que es crear comunidad y ayudarnos los unos a los otros.
Las presentaciones de los becarios de este año fueron muy interesantes y multiculturales. Chad Troyer de Estados Unidos, Elisa Lutteral de Argentina. Jenny y Ashley Juarez Lopez compartieron con nosotros sus tejidos y antecedentes guatemaltecos. Mientras que Trisha Gupta compartió su herencia hindú americana.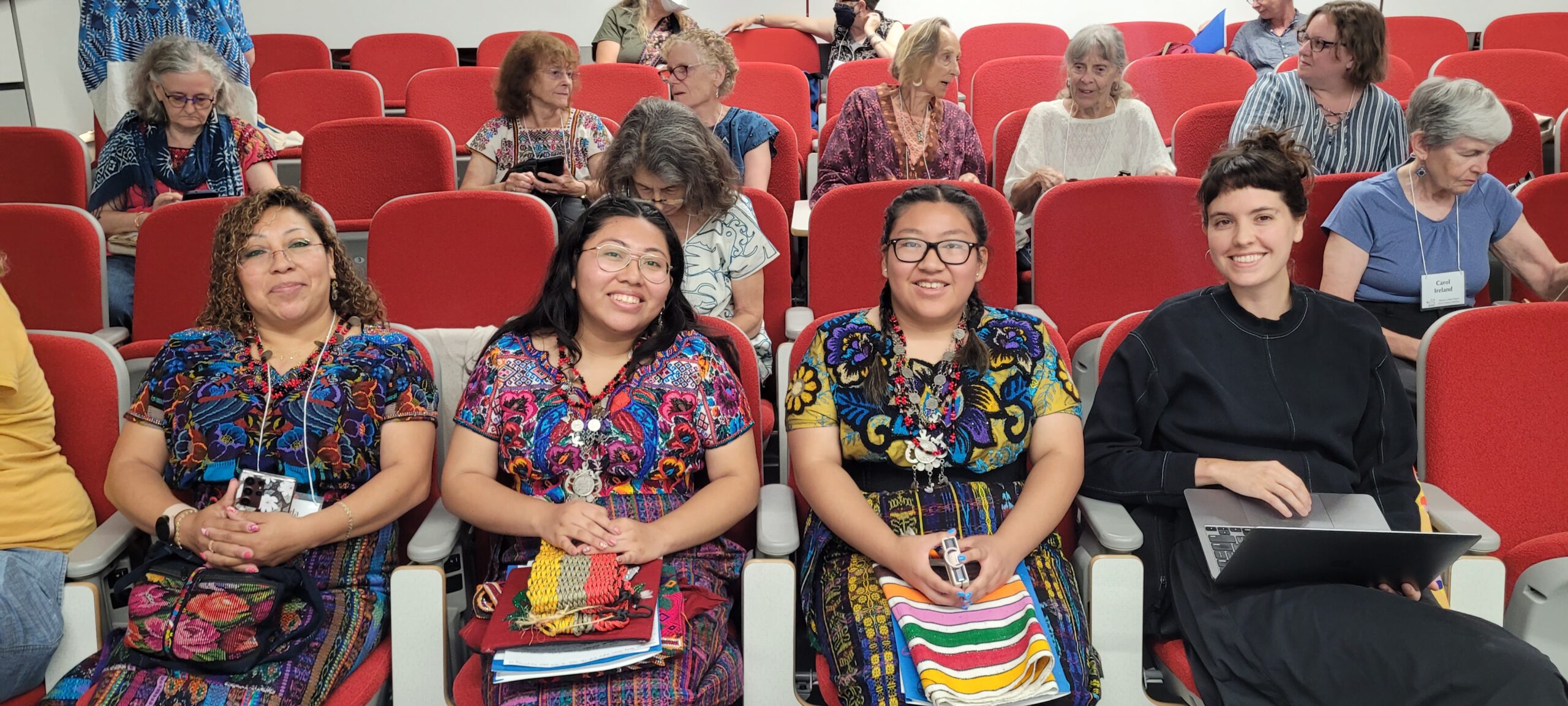 Hubo muchas presentaciones interesantes y, por supuesto, el bazar/ mercado se llenó de hermosos textiles artesanales de todo el mundo.
Este año también hubo una exposición de Arte Textil en una galería en Kent. Esta fue la primera que se realiza algo así en una reunión anual. ¡Y creo que fue un éxito! Las piezas estuvieron expuestas durante 2 meses, y aún puedes verlas visitando el sitio online AQUÍ.
En la noche del sábado hubo un desfile de modas y una subasta en vivo. Todo ello acompañado de comida, bebida y buena compañía.
¡Definitivamente esta reunión nos recordó la importancia las reuniones en persona! Y lo increíble que es conectar con viejos amigos y hacer nuevos.
Esperamos que puedan acompañarnos en nuestra reunión anual de 2024 en Golden Colorado. Del 16 al 18 de mayo.
Rocío Mena