Threads of Connection: Exploring the Local to Global Textile Community
Kent State University in Kent, Ohio
July 13-16, 2023
Jessica Pinsky, Founder of Praxis Fiber Workshop
From Local to Global: The Journey of a Textile Organization
recording coming soon
In this presentation, founder Jessica Pinsky will examine the history of Praxis Fiber Workshop since its inception in 2012. Praxis Fiber Workshop builds the international community of fiber artists and makers through classes, workshops, residencies, and community projects that teach the art form and demonstrate how fiber arts can be used to build healthy, resilient and inclusive communities. Learn more about Praxis at www.praxisfiberworkshop.org.
Jessica Pinsky grew up in Akron, Ohio and moved to Cleveland in 2011 after receiving a BFA from New York University in 2006 and an MFA from Boston University in 2009. Her artwork bridges painting, weaving and sculpture and she is represented by Hedge Gallery in Cleveland, OH. In 2012, she worked closely with Cleveland Institute of Art to found Praxis Fiber Workshop, a community textile organization whose mission is to promote and educate the field of textiles. She is currently the Executive Director at Praxis and lives in the North Collinwood neighborhood with her wife and 3 year old twins.
---
2023 Alice Brown Memorial Scholarship Recipients
recording coming soon
The Alice Brown Memorial Scholarship is an award for students and young professionals who are invested in WARP's mission. Scholarship recipients are invited to the Annual Meeting to connect with the WARP community. This year's recipients will share their research and creative practices during our 2022 virtual meeting, then join us for our next in-person conference in 2023. We are thrilled to welcome this remarkable group to WARP!
Ashley F. Juarez Lopez weaves Guatemalan textiles with a back-strap loom. She is currently a high school student at George C. Marshall. Along with her mother and sister, she is a member of the Weaving for the Future Cooperative. She goes to events with the cooperative to demonstrate back-strap weaving and show Guatemalan culture.
Jenny R. Juarez Lopez graduated from Virginia Tech in 2022 with a bachelor's degree in Mathematics. She is a back-strap weaver of Guatemalan textiles. In 2016, she became a member of the Weaving for the Future cooperative. With the cooperative, I attends events to demonstrate back-strap weaving and educate the public on Guatemalan culture.
Chad Troyer is a textile artist living and working in Cleveland, Ohio and works as the Digital Weaving Coordinator and a weaving instructor at Praxis Fiber Workshop. As an instructor, Chad teaches weaving and introduces the history of weaving to beginners. As the Digital Weaving Coordinator, they interact with and aid resident artists in their use of the TC-2, a digital jacquard loom. Their own work investigates landscape and environment, and the threads that connect community and family to our natural terrain. Warp and weft are reminiscent of latitude and longitude, and can become the markers of our own path through our life and our natural environment.
---
Janice Lessman-Moss
Discovery/Dissemination/Exchange
Janice Lessman-Moss resides and maintains a weaving studio in Kent, Ohio, USA where she is Emeritus Professor at Kent State University. She has been awarded numerous Individual Artist Fellowships from the Ohio Arts Council, and received an Arts Midwest/National Endowment for the Arts Fellowship in Crafts. Lessman-Moss won the prestigious Governor's Award for the Arts in Ohio in 2016, the Cleveland Arts Prize Lifetime Achievement Award in 2019, and a coveted United States Artists Fellowship also in 2019. Her work been presented throughout the United States and internationally. Learn more about Janice at: www.janicelessman-moss.com
Janice shares: "From 1981 through 2022, I was privileged to be a professor of Textiles at Kent State University, crafting and nurturing a new curriculum while establishing a flourishing art practice. The body of weavings created during this time, reflect the breadth and depth of my own curiosity and conceptual interests driven in part by my desire to expand my vocabulary of textile knowledge to share with my students. In exchange, I watched the students respond and discover their own perspectives and material sensibilities through discipline, experimentation and critical questioning. Their energy and unique visions continually refueled my own enthusiasm and progress in a treasured reciprocity."
---
John Paul Morabito
A Queer Tangent in Tapestry
Transdisciplinary weaver John Paul Morabito is Assistant Professor and Head of Textiles at the School of Art at Kent State University. Morabito engages queerness, ethnicity, and the sacred through the medium of tapestry reimagined in the digital age. Their work outputs woven forms, moving images, and relational actions that look toward a future-past horizon where one can exalt queer grace. They have exhibited internationally including the Zhejiang Art Museum (Hangzhou City, China); CULT Aimee Friberg Exhibitions (San Francisco, CA); Dorsky Gallery Curatorial Projects (Long Island City, NY); Document (Chicago, IL); the Des Moines Art Center (Des Moines, IA); the Nerman Museum of Contemporary Art (Overland Park, KS); the Center for Craft (Asheville, NC); and the John Michael Kohler Arts Center (Sheboygan, WI). Collections include the Musée des maîtres et artisans du Québec (Montréal, Canada) and the Textile Resource Center at the School of the Art Institute of Chicago (Chicago, IL). In tandem with studio production Morabito pursues a practice-led scholarship that positions weaving as a critical platform of cultural production. Their writing has been published in Art China, The Textile Reader 2 (China Academy of Art), The Journal of Textile Design Research and Practice, Textile: Cloth and Culture, and Bloomsbury's forthcoming Encyclopedia of World Textiles. They are the editor of Weaving Beyond the Binary, a special issue of the international peer reviewed journal, Textile: Cloth and Culture. Morabito serves as Director-at-Large for the American Tapestry Alliance and Poly-Chair for the Queer and Trans Caucus for Art. They hold a BFA from the Maryland Institute College of Art and an MFA from the School of the Art Institute of Chicago.
Do you see the parallels between Bronx-Italian opulence and exaggerated drag queen glamor? Drawing upon these mirrored sensibilities, John Paul Morabito will invoke the fallen glory of tapestry to un-situate the holy with sincere blasphemy. This lecture will queerly reorient relics, icons, and rituals through a series of intersecting tangents that attempt, perhaps, to weave a tapestry of their own. Learn more about John Paul at: www.johnpaulmorabito.com.
---
Rustbelt Fibershed
Clothing and Ecosystems: The Healing Potential of a Local Textile System
recording coming soon
How might local clothing be just as important a consideration as local food? What is most of our clothing made of and why might it matter? How does circularity apply to our clothing choices? How can fashion be an entry point to remembering a connection to our land, other beings, ourselves, our past and our future? Join Jess Boeke and Sarah Pottle, co-founders of Rustbelt Fibershed, in conversation as we discuss these questions and more, ultimately focusing on how our clothing and textile choices have the potential to regenerate our earth, our health, our local community!
Jess Boeke is an educator and fiber artist who has been working with natural dyes since 2008. She lives in Cleveland, Ohio, where she works with her twin sister, Sarah Pottle, to promote ethical fashion and use of Natural Dyes through their project, Drift Lab Dye Studio. As a community events and outreach coordinator, Jess plans events that not only engage and educate the Rust Belt Fibershed community but also hold space for people to come together to discuss the importance of local labor, dyes, and carbon beneficial impact of our soil-to-soil textile industry.
Sarah Pottle is an educator, weaver, dyer, fiber-enthusiast, and advocate. She is passionate about helping our community within our fibershed and understands how fiber has the potential to bring us together and make our community healthier. She believes that this area of the Midwest has so many resources to offer in terms of fiber farmers, local labor, and artisans who truly know the craft, and that by connecting these people with consumers, we can build relationships, improve soil quality, and wear and use items we are truly proud to own. Sarah is also the co-founder of Drift Lab Dye Studio., a natural dye studio located in Cleveland Heights, Ohio. Sarah is in charge of Producer Outreach and Partnerships at Rust Belt Fibershed.
---
Growing a Local Economy for Fashion
Discussion with Faanware and Esperanza Threads
For this discussion, we will hear from two clothing companies working to do good locally in the Cleveland community. From keeping second hand fabrics out of the landfill, to providing jobs for newly resettled refugees, these two organizations are doing their part to grow the local fashion economy in a sustainable, community-oriented way. For this panel, we welcome Aaron Jacobson of Faan, and Emily Tiell of Esperanza Threads.
Aaron Jacobson is the founder and designer of zero-waste clothing brand Faan. His work centers on community collaboration and resource-sharing as fundamental principles of circular design. Aaron practiced architecture in China before launching Faan in Cleveland, once home to the second largest garment manufacturing center in the US. Faan is a slow fashion brand creating workwear-inspired unisex pieces from organic and salvaged fabrics since 2015. Each piece is cut and sewn by a small team in Cleveland. Faan's domestic supply chain, organic sourcing and natural dye program underpin the brand's mission to help establish a circular model for apparel production within the Rustbelt Fibershed. Please get to know Faan on instagram @faanware or faanware.com.
Emily Tiell is the executive director of Esperanza Threads, and has been involved with the organization for 10 years. Her background is working with the refugee population, and she has great aspirations to enhance and grow Esperanza Threads. Esperanza Threads is a small nonprofit located on the west side of Cleveland. They offer free sewing classes to those looking to gain a skill or want to get into Cleveland's industrial manufacturing field. Anyone is welcome to attend or classes, from newly resettled refugees, to longtime Clevelanders, to people coming out of second chance and rehab programs. A stipends program is available to low-income students.
---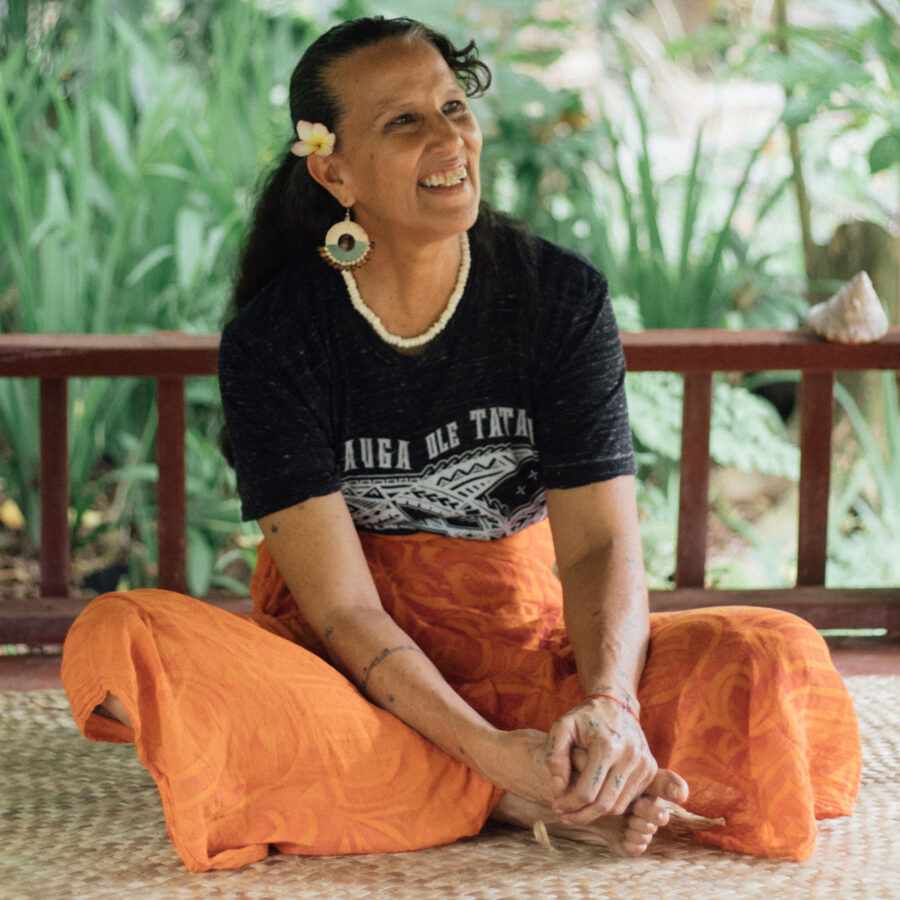 Reggie Meredith Fitiao
U'a, I'e, O'a ma isi – Bark, Beater, Brown dye & more: Making Siapo in Leone
recording coming soon
Reggie Meredith Fitiao is a 4th generation Samoan Siapo (tapa) maker. Her work is comprised of handmade beaten bark cloth and natural dyes. She paints ancestral motifs on the bark cloth, maintaining the vision of life and culture in today's world. Beating paper mulberry bast and preparing dyes resonates a core value in her. The designing starts with the process of making, and understanding the materials as a whole and how they work together is essential in siapo making.
Her schooling includes earning an Art Education credential from Washington & Jefferson College in Pa, and then later being accepted into the Art program at San Diego State University to achieve her M.F.A. in Painting. These years of study led to 32 years of teaching the Arts at the American Samoa Community College (ASCC).
Current works of siapo making for Reggie includes a series entitled Ole Olaga i le Taimi Nei: Living in the NOW. This project of making u'a (beaten paper mulberry bark) masks with painted ancestral motifs became a focus especially with the recent pandemic. She has made over 300 and a few have been accessioned into museums across the world including the National Museum of Scotland, Edinburgh UK, National Museum of Natural History Smithsonian Institution Washington D.C., and the Museum Natur und Mensch Freiburg Germany just to name a few. Her most current work involves a series of siapo panels earmarked for the new Fale Fono (Legislature) building presently being constructed on island. The inclusion of something ancestral, something modern gives her encouragement identifying richness of collaborating with tradition. "When making siapo, painting motifs with my paogo brush, my thoughts are of mana –spiritual energy, and I think of all those who were makers of this art form before me and how humbled I am to know it." As a steward of siapo, the intention is to continue making it, teaching it to others, sharing it and interacting with places and people who care for siapo as cultural objects in their collections." For more information, visit: www.faasamoaarts.com
---
Maya Textiles: Weaving & Identity
Presentation by Weaving for the Future Cooperative
recording coming soon
Friends of the Ixchel Museum (FOIM) is a charitable foundation established to promote interest in the Maya textile tradition of Guatemala and the work of the Museo Ixchel. FOIM uses their U.S. based textile collection to bring exhibits to museums, schools, and organizations. FOIM works with their Weaving for the Future Cooperative to bring live weaving demonstrations, hands-on activities, and virtual programs for all age groups and interests. The Weaving for the Future Cooperative consists of Maya weavers who come together to continue their weaving tradition, share it with the public, and create beautiful items for sale to enable a sustainable cooperative. The Cooperative members are Florinda Lopez, Jenny Juarez Lopez, Ashley Juarez Lopez, Julia Sanchez, Victoria Cabrera, Angelica Lopez, and Olandina Hernandez. Learn more about FOIM at: www.ixchelfriends.org.
---
Threads of Connection in Oaxaca and Chiapas:
Meeting Textile Artisans Where They Live and Work
recording coming soon
In Oaxaca and Chiapas, women and men create extraordinary textiles using ancient weaving and natural dyeing techniques that pre-date the Spanish conquest. They work on back-strap looms, often six hours daily, between caring for home and families or tending fields of beans, corn, and squash. Many grow their own native cotton and cultivate local plants to dye it. Today, through photos and samples, we'll explore this remote world rooted in ancient culture and mythology, address economic challenges and opportunities, and how the marketplace drives innovation and quality. Topics include the technology and color of cloth, meaning, cultural appropriation, creating beauty amid hardship and poverty, strength, and perseverance, and how we can make a difference. By focusing on two cooperatives in each Mexican state, we will take you deep into the lives of indigenous people to create threads of connection.
Norma Schafer founded Oaxaca Cultural Navigator LLC in 2007, and has lived in the Zapotec village of Teotitlan del Valle, Oaxaca, with the Chavez Santiago weaving family since 2005. Once a weaver and natural dyer, she focuses on promoting indigenous textiles and culture by organizing textile study tours throughout Mexico, concentrating on Oaxaca and Chiapas. In 2022, she invited Eric Chavez Santiago, weaver, dyer, and Museo Textil de Oaxaca education department founder, to partner with her in this endeavor. A retired university administrator, she holds the M.S. in Administration from The University of Notre Dame and the B.A. from California State University at Northridge. Learn more at: www.oaxacaculture.com.