WARP Annual Meetings – Where We Connect
WARP's Annual Meeting brings members together for education, fellowship, and networking. Every year, we gather to connect, find commonalities, and to share stories and knowledge.  We do our best networking at the Annual Meeting. It's where we get new perspectives and new ideas about how to further our work.  We select the next year's board members, teach new leaders through our student scholarship program, hear about exciting projects, and gain new skills. 
This year's meeting will be held on the Kent State University (KSU) campus July 13-16. Our 2023 theme is Threads of Connection: Exploring the Local to Global Textile Community. For this conference, WARP will host presenters from the local and international textile community. In addition to a great lineup of speakers, we have a number of fun networking opportunities including our annual Welcome Circle, a WARP members exhibition reception, a live auction and fashion show, international vendor marketplace, an optional hands-on workshop, and bus tour to the Cleveland Museum of Art.
---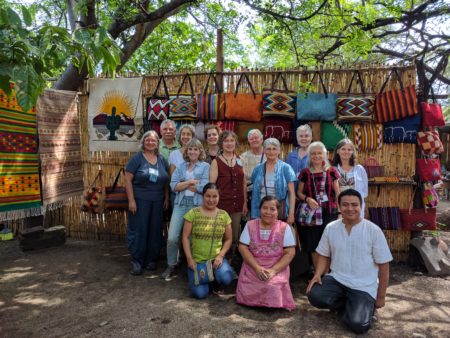 Here are the places we've met so far:
2022 Virtual Meeting – Recordings available here
2021 Virtual meeting – Recordings available here
2013 Southern New Hampshire University, Manchester, NH
2012 Outlook Hotel and Conference Center, Boulder, CO
2011 YMCA Blue Ridge Assembly, Black Mountain, NC
2010 Spirit in the Desert, Carefree, AZ
2009 The Welcoming Place, Mennonite Central Committee Offices, Akron, PA
2008 Camp Casey Conference Center, Whidbey Island, WA
2007 Panajachel, Guatemala
2006 Dunrovin Retreat Center, Marine on St. Croix, MN
2005 Penn Center, St. Helena Island, SC
2004 The Presentation Center, Los Gatos, CA
2003 YMCA Blue Ridge Assembly, Black Mountain, NC
2002 Black Forest Camp, Colorado Springs, CO
2001 Sargent Camp, Hancock, NH
2000 Ghost Ranch, Abiquiu, NM
1999 Grailville, Loveland, OH
1998 New Windsor Conference Center (SERRV International), New Windsor, MD
1997 Casey Conference Center, Whidbey Island, WA
1996 Windswept, Berea, KY
1995 Stonehaven Ranch, San Marcos, TX
1994 Stonehaven Ranch, San Marcos, TX
1993 Elizabeth Harvat's cabin, near Kremmling, CO
1992 Elizabeth Harvat's cabin high in the Rockies near Kremmling, Colorado