WARP Annual Meetings – Where We Connect
Our 2021 Annual Meeting will be held in Bozeman, Montana on July 22-25. We will share details about the meeting here as the planning committee develops the program.
Every year since 1992, WARP members have gathered to connect, find commonalities, and to share stories and knowledge.  We do our best networking at the Annual Meeting. It's where we get new perspectives and new ideas about how to further our work.  We select the next year's board members, teach new leaders through our student scholarship program, hear about exciting projects, and gain new skills.  We sometimes get our hands dirty (or indigo blue, or cochineal red.)  WARP's yearly meeting is a time for learning, sharing, and important dialogue.  Read about the 2014 and 2015 Annual Meetings to learn more.  In 2007 we met in Panajachel, Guatemala, and in 2017, we went to Oaxaca, Mexico. Most of our meetings are held in the U.S. at various venues around the country.
---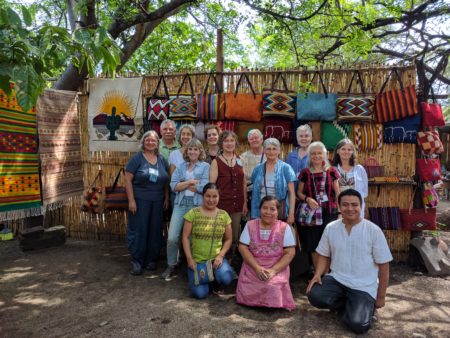 Here are the places we've met so far:
1992 Elizabeth Harvat's cabin high in the Rockies near Kremmling, Colorado
1993 Elizabeth Harvat's cabin, near Kremmling, CO
1994 Stonehaven Ranch, San Marcos, TX
1995 Stonehaven Ranch, San Marcos, TX
1996 Windswept, Berea, KY
1997 Casey Conference Center, Whidbey Island, WA
1998 New Windsor Conference Center (SERRV International), New Windsor, MD
1999 Grailville, Loveland, OH
2000 Ghost Ranch, Abiquiu, NM
2001 Sargent Camp, Hancock, NH
2002 Black Forest Camp, Colorado Springs, CO
2003 YMCA Blue Ridge Assembly, Black Mountain, NC
2004 The Presentation Center, Los Gatos, CA
2005 Penn Center, St. Helena Island, SC
2006 Dunrovin Retreat Center, Marine on St. Croix, MN
2007 Panajachel, Guatemala
2008 Camp Casey Conference Center, Whidbey Island, WA
2009 The Welcoming Place, Mennonite Central Committee Offices, Akron, PA
2010 Spirit in the Desert, Carefree, AZ
2011 YMCA Blue Ridge Assembly, Black Mountain, NC
2012 Outlook Hotel and Conference Center, Boulder, CO
2013 Southern New Hampshire University, Manchester, NH
2014 Pallottine Renewal Center, Florissant, MO
2015 Mercy Center Burlingame, outside San Francisco, CA
2016 Immaculate Heart of Mary Retreat Center, Santa Fe, NM
2017 Hostal de la Noria, Oaxaca, Mexico
2018 Luther College, Decorah, Iowa
2019 Georgetown University, Washington, DC