WARP is a 501(c)3 nonprofit organization founded in 1992. Our Board members are elected at each year's Annual Meeting and serve 3-year terms.
Deborah Chandler, Board Co-Chair
Deborah Chandler was on the original board of WARP – before the turn of the century! A lot has changed since then and she looks forward to starting afresh as WARP becomes increasing digital and able to reach people around the world more easily. She has lived in Guatemala since 2000, was the in-country director of Mayan Hands for nine of those years. A weaver herself, she loves being immersed in textiles, and as an educated person who likes to eat, she is a strong advocate for fair trade and helping women earn enough to be able to feed their children and send them to school. Deborah´s resume includes teaching weaving in the US, writing Learning to Weave in 1984, being a Peace Corps Volunteer in Honduras, leading fair trade/textile tours in Guatemala, volunteering with immigrants on the border in El Paso, and writing three books on Guatemalan/Mayan weavers and weaving.
---
Hedy Hollyfield, Board Co-Chair
Hedy Hollyfield is retired from her formal career in the pharmaceutical industry. She is one of the founders of Ayni, Inc., a small not-for-profit company that imports textile products primarily from Ayacucho, Peru. Ayni's goal is to help to preserve the rich textile traditions of this community near the heart of the Wari culture. Any proceeds from sales are funneled back to the community to be used for social welfare or education projects. Anyi has partnered with ANFASEP, the earliest human rights group in South America, founded during the 'time of terror' during the Shining Path revolution in Peru, to teach the widows from this time needle felting and sell their products at shows. Hedy spends her spare time in her garden, tending a pollinator friendly garden, sewing, knitting, or reading and enjoying the company of her two grandsons, ages 1 and 6.
---
Cheryl Musch, Treasurer
For more than 20 years, Cheryl Musch has worked in Fair Trade, as the director of the Fair Trade Federation; director of International Development at SERRV; and director of Partners for Just Trade. This work gave her the incredible opportunity of working with artisans in 35 countries in Africa, Asia and Latin America. Cheryl was WARP's Administrative Coordinator for many years in addition to serving on WARP's board. She currently works in Special Collections and Museums in the library at Truman State University, in Kirksville, MO. Cheryl has a passion for supporting artisan production of textiles and enjoys knitting and weaving. WARP's mission to create a network of people who value textiles in developing economies, along with her desire to empower small-scale global artisans, motivate her to continue to do what she can to advance appreciation and economic development of international makers.
---
Cael Chappell, Secretary
Cael Chappell's basket making grows from his love of basketry. Seventeen years before weaving his first basket, Cael founded Baskets of Africa, a fair trade verified company committed to economic empowerment for basket weavers from over 20 countries. Traveling across Africa to meet weavers, Cael discovered that basketry is as diverse as it is universal. After years of commitment to the art of basketry and the weavers in Africa, Cael wove his first basket in 2017. He is inspired by global weaving traditions to create his own unique baskets. Cael enjoys working full time on his Baskets of Africa project both to support weavers, and to be able to offer an amazing array of African baskets to collectors around the world.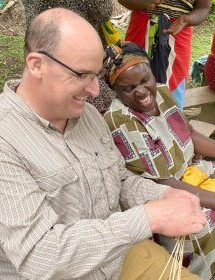 ---
Maren Beck, Board Member
Maren, traveling with her husband and two young sons in 2005, fell in love with rural SE Asian textiles and cultures, and transitioned from being a project manager in the health care field to being a businessperson importing personally selected handcrafted traditional textiles from Laos and Vietnam. She and her husband founded Above the Fray: Traditional Hill Tribe Art in 2007 in order to document, support, and introduce to the world the incredible traditional textiles arts and cultures of this region. She and her husband are authors of Silk Weavers of Hill Tribe Laos, published by Thrums Books. They live in Eugene, Oregon, and Maren leads village textile workshop tours to Laos and Vietnam.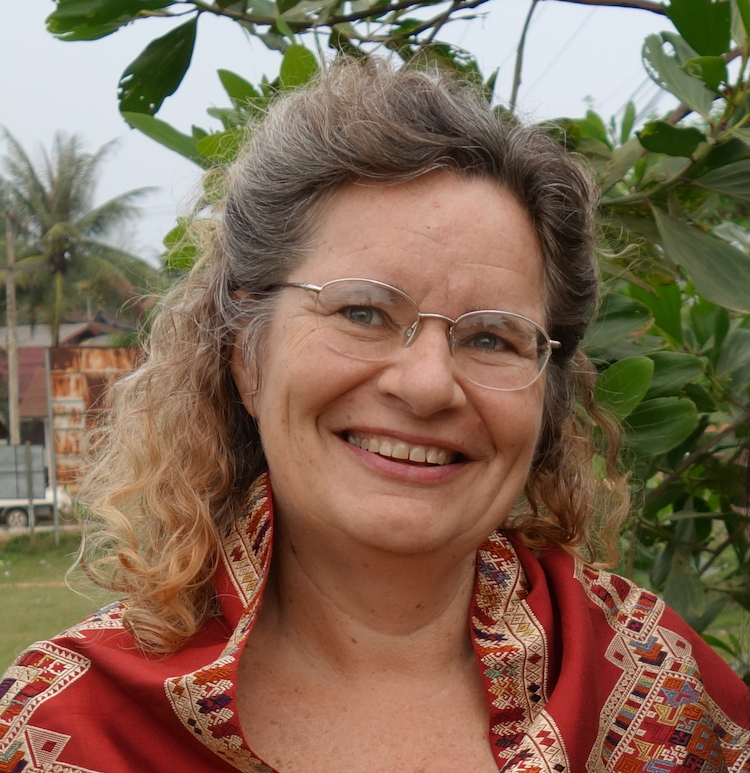 ---
Beth Davis, Board Member
Beth Davis is a founding member of WARP. She learned to weave in Denmark, designed woven fabrics for the textile industry, worked with handweavers in India and Nicaragua, studied batik production in Indonesia, and taught 150 8-year olds how to unravel silk cocoons. She enjoys using indigenous textiles as a lens through which to explore countries and cultures. Recently retired, she worked for many years as a User Experience Researcher; contributing to the design of a wide variety of products – from insulin pumps to home robots.
---
Elena Laswick, Board Member
Elena Laswick grew up in Tucson, AZ, on a steady diet of mariachi, beans, folklórico, and Navajo rugs, which developed her sense of belonging somewhere between Latin America and the US and is why she is passionate about textiles, indigenous rights, and cultural preservation. After working in marketing and communications for several NGOs and Social Businesses, she's learned the importance of getting out of the way and letting other people tell their own stories. She does this as both a Spanish/English interpreter and the marketer/owner of Ixil Collective and the marketer/co-founder of Amano Marketplace.
---
Sarah Saulson, Board Member
Sarah Saulson has been a member of WARP for many years, where she has had the good fortune to meet the most interesting, committed, and empowered women she has ever known. Sarah is a weaver, dyer, and spinner, both practitioner and teacher, working out of her studio in Providence, RI in a former weaving mill building. She's also had the privilege of working with producer groups in Ghana, Guatemala, and India, in all three cases because of connections made through WARP. Sarah is happy to return to the WARP board, where her proudest achievement was bringing Kelsey Wiskirchen–now our amazing, hardworking Executive Director– into WARP, originally as the first scholarship recipient.
---
Rocío Mena Gutierrez, Board Member
Rocío Mena Gutierrez is a WARP board member from Mexico City. She is the founder of ZIKURI & a natural dye passionate. This path has led her to learn in different places such as Mexico, France, the US, Japan & Guatemala. Through her brand, Rocío unites her two passions: natural dyeing education & designing bags. Her purpose is to inspire by achieving beautiful colors & by making us aware of the processes involved so that we can feel the connection with the materials and the essence of things. In 2014, Rocío worked with women in San Rafael, Guatemala on developing a kit of beautiful naturally dyed cotton yarns in all colors of the rainbow. This project, called Tintes Naturales was a collaboration between WARP member organizations Mayan Hands, Cotton Clouds, Rocío, and several other WARP members.
---
Kelsey Wiskirchen, Executive Director
Kelsey Wiskirchen is WARP's Executive Director, responsible for WARP's programming, outreach, and member communication, among other things. If you have a WARP related question, Kelsey will either answer it for you or connect you with the person who knows the answer! (info@weavearealpeace.org) Kelsey joined WARP in 2010 as a scholarship recipient, and has remained actively involved in WARP ever since, including serving a term on the board. In addition to the work she does for WARP, Kelsey teaches community textile workshops and works as a studio artist in North Carolina.
---
Linda Temple, Newsletter Editor
Linda Temple is WARP's Newsletter Editor, responsible for creating 4 high-quality colorful informative issues every year. Linda is a retired librarian, has been involved in numerous fair trade endeavors for the past 30 years. She weaves and spins for fun, and has been a member of WARP since the beginning. To read previous newsletters, please visit our newsletter archive here. If you would like to contribute to an upcoming WARP Newsletter, please contact Linda at lgtempleok@gmail.com.
---