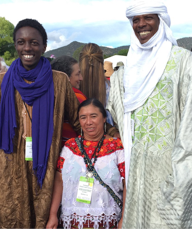 The occasion of the WARP annual meeting at the International Folk Art Market is an opportunity to examine the organization's mission in action. This blog introduces you to 3 WARP members who help IFAM artisans access opportunities. If you work with global artisans and have wondered about participating in the IFAM, I encourage you to seek out the 3 members listed here to learn about their path to Santa Fe.
In addition, I'm seeking information about other WARP members who assist global artisans access the extraordinary IFAM opportunities. Please reach out to me, Mary Anne Wise, or the WARP administrator! Let us know about your work: we're a small group and sharing knowledge and networks can benefit all of us.
Guatemala: https://www.folkartalliance.org/artist/glendy-emiliana-muj-mendoza-de-barreno/
Assisting WARP Members: Jody Slocum & Mary Anne Wise of Cultural Cloth (www.culturalcloth.com)
Participating IFAM Artist: Yessicka Calgua Morales will represent the rug hookers of the Cooperativa de Alfombras de Mujeres Maya en Guatemala. The Cooperativa is returning to the Market for it's third year.  Rug hooking was introduced to a group of Maya artisans in 2009 by Cultural Cloth partners Jody Slocum and Mary Anne Wise as a way to access income earning opportunities. The women design and hook one of a kind rugs using patterns extracted from their traje (traditional clothing) or Semana Santa alfombras (street rugs created for Holy Week). Recognized for their innovation and artistry, the women's hooked rugs have enjoyed international acclaim (including being short listed as 1 of 15 finalists in the Aspen Institute's Alliance for Artisan Enterprise's 2015 global competition). To learn more about the Maya women's path to the IFAM, find Mary Anne Wise or Jody Slocum at the WARP meeting or in the rug hookers booth during the market.
Morocco: https://www.folkartalliance.org/artist/kbira-aglaou/
Assisting WARP Member: Susan Schaefer Davis of Marrakesh Express
Participating IFAM Artist: Kbira Aglaou will represent the Association Timnay of Morocco for their first market experience. The Association's weavers create rugs that an "essential part of life using designs that are passed down from one generation to the next". It's the first market for the Association, but not for WARP member Susan Schaefer Davis who has assisted weavers in two Moroccan villages since 2001, selling their work pro bono through her online site, and organizing  cultural and textile tours to Morocco as well as helping many IFAM artists from Morocco at previous markets.  To learn more about Kbira's path to the IFAM, find Susan Schaefer Davis at the WARP meeting or in the Association Timnay's booth during the market.
Peru: https://www.folkartalliance.org/artist/nilda-callanaupa-alvarez-and-lidia-callanaupa-alvarez/
Assisting WARP Member: Marilyn Murphy of Cloth Roads
Participating IFAM Artists:  Nilda Callanaupa Alvarez and Eulogia Quispe Huaman. Nilda is founder and director of the Center for Traditional Textiles of Cusco (CTTC). Nilda has participated in each Market since 2005. She has been recognized by the Aspen Institute's Alliance of Artisan Enterprise Hero Award, hosted two international weaving conferences with a third conference scheduled for 2017. Marilyn Murphy of ClothRoads serves on the Board of Andean Textile Arts, a U.S. non profit dedicated to supporting the people and communities of the Andes to preserve their textile traditions. Through her participation with Andean Textile Arts, Marilyn works directly with CTTC including co-curator of the exhibit, Weaving Lives: Transforming Textile Traditions in the Peruvian Highlands at the Avenir Museum of Colorado State University in 2013.
To learn about Nilda's path to the IFAM, speak with Nilda at her booth at the IFAM, or connect with Marilyn who will present a discussion about her work at the WARP annual meeting.
I look forward to meeting you at our 2016 Annual Meeting in Santa Fe.  You can find me at Cultural Cloth.