Human Ecology. Regular bi-monthly column for Hudson Valley regional journal Up River Down River published 1990-1992
article in journal
Flad Mary M
Ibolya Hegyi in Woven Times: Ibolya Hegyi (1953-2016) festschrift edited by Ildikó Alapítvány Dobrányi
chapter in edited book
Hedlund Ann Lane
In Pursuit of Style: Kate Kent and Navajo Aesthetics. Museum Anthropology 13(2-3)
article in journal
Hedlund Ann Lane
In Search of Wild Silk – the Art and People of Indian Wild Silk
Silk! just the word invokes intrigue and fantasies of lavish mounds of rich hued fabrics. The journey of metamorphosis from caterpillar to silken luxury is miraculous. Textile artist Karen Selk delves into the amazing world of wild silk and the indigenous people of India who raise the wild silkworms. You'll...
book
Selk Karen
Inkle Loom Weaving – an Introduction
Film and DVD
Romatka Marilyn
Interlacements: Threads & Lives
120 minute full length documentary film by Marilyn and Rainer Romatka. We are taking a unique view of hand-weaving in the movie focusing on relationship. This is a documentary film that tells the stories of the personal relationships that develop between weavers and the end-users of handwoven cloth. We want...
Film and DVD
Romatka Marilyn
Interview – Ann Lane Hedlund & Nancy Princenthal in Agnes Martin/Navajo Blankets
chapter in edited book
Hedlund Ann Lane
Introduction – Consultations Collaborations and Curation by Navajo Weavers: A Celebration and History in Weavers Collectors and Changing Markets: The...
chapter in edited book
Hedlund Ann Lane
Introduction to Temari: Japanese Thread Balls
1 hour 5 minute instructional video with Marilyn Romatka. Temari balls are exquisitely wound and embroidered gems that are given in Japan as a very special gift to a loved one on an auspicious occasion. Easy to learn at a beginner's level the intrigued student can follow the craft up...
Film and DVD
Romatka Marilyn
Its in the Bag: Transformation in Guatemala. Containing Tradition Embracing Change. Weaving Together Plant Materials in Northern Latin America.
digital
Rousso Kathryn
Joe Ben Wheat in Why Museums Collect: Papers in Honor of Joe Ben Wheat edited by M. S. and D....
chapter in edited book
Hedlund Ann Lane
Journeys: The Life and Work of Jackie Abrams
A wonderful book about Jackie's artwork teaching and social justice work.
book and ebook
Hester Beth
Kantha Reimagined: From Private to Public – 20 minutes
Film and DVD
Stevulak Cathy
Kantha: Forms and Transformations
The kantha or as it is increasingly referred to as the nakshi kantha is an important aspect of Bengali women's domestic arts and crafts. Kanthas are made in most parts of Bangladesh as well as in West Bengal. With transformations into many forms the kantha can now be found worldwide...
online magazine
Stevulak Cathy
Knit in New Directions
Freeing knitters with all levels of experience to become involved in the creative process and still make a garment that is knit-to-fit this template-based approach is not math-dependent and works for people whether they prefer a structured or more freeform process.
book
Wood Myra
Knitting Art: 150 innovative Works by 18 Contemporary Artists
Now available as an e-book it consists of interviews with 18 US and Canadian artists who use knitting as their primary medium of expression. As some knitters create mittens and sweaters others create conceptual works for exhibition from wearables and sculptures to installations. Over 150 color photographs document the artists'...
book and ebook
Searle Karen
La Gamarra
Focusing on the garment district in Lima Peru the book is all photos 113 pages of the micro-factories displays vendors fashions and manikins.
book
Hayman Carol
Latin American Brocades
Available online at the University of Arizona's weaving archive: https://www2.cs.arizona.edu/patterns/weaving/weavedocs.html. This guide to weaving supplementary weft techniques provides instructions for both pickup and loom-controlled weaves found in primarily in Guatemalan textiles.
book now online
Searle Karen
Learning to Weave
A study guide to learn four shaft weaving starting from zero. All of the basics are covered: the tools of weaving warping the loom weaving reading and designing drafts understanding a dozen weave structures and a lot of miscellaneous. Thorough and friendly it has helped over 150 000 weavers get...
book
Chandler Deborah
Lebanon Has History of Beauty and Sadness. Poughkeepsie Journal August 6 2006
article in journal
Flad Mary M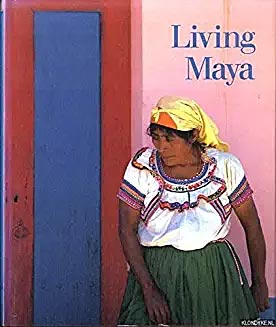 Living Maya
book
Morris Walter F Jr (Chip)
Maguey Journey: Discovering Textiles in Guatemala
book
Rousso Kathryn
Makers and Markets: The Wright Collection of Twentieth-Century Native American Art
The extent and significance of an iconic collection of pre-1990s southwestern crafts including an impressive range of exemplary textiles basketry pottery jewelry and more. Discusses market factors and the rise of both tourist art and fine art. Describes and illustrates an important collection of Southwestern Native American crafts and artwork...
book
Drooker Penelope B.
Master Weaver from Ghana
Juvenille nonfiction - 32 pages. Bobbo is a traditional weaver from Ghana where his ancestors have been weaving for generations. His young son Kweku learns from him just as Bobbo learned from his father. Through Kweku's eyes we see family and community life in the small fishing village of Denu....
book
Ahiagble Gilbert Bobbo
Maya Faces in a Smoking Mirror
Film and DVD
Eber Christine
Maya Gods and Monsters – Supernatural Stories from the Underworld and Beyond
Through captivating stories and lush illustrations Maya Gods and Monsters draws on ancient creation myths and lore of the Maya people and gives life to wild and quirky gods magical monsters and creatures beyond strange. Fifteen stories blend the natural and the supernatural into an alluring realm reflecting the heart...
book
Karasik Carol
Maya Hair Sashes Backstrap Woven in Jacaltenango Guatemala / Cintas Mayas tejidas con el telar de cintura en Jacaltenango Guatemala
book
Ventura Carol
Maya Threads: A Woven History of Chiapas
A definitive guide to the history meaning and evolution of the beautiful and intricate Maya textiles of Chiapas Mexico. Photography by Janet Schwartz
book
Morris Walter F Jr (Chip)
Mayan Arts and Crafts of Guatemala / Artes Y Artesanías Mayas de Guatemala
book
Anderson Marilyn
Mayan Clothing and Weaving through the Ages – Women Weaving and Ethnic Identity: a historical Essay
Women Weaving and Ethnic Identity: a historical Essay
chapter in edited book
Rosenbaum Brenda
Mayas in Postwar Guatemala Harvest of Violence Revisited – Everyday Violence of Exclusion: Women in Precarious Neighborhoods of Guatemala City
Edited by Walter Little and Timpothy Smith Everyday Violence of Exclusion: Women in Precarious Neighborhoods of Guatemala City
chapter in book
Rosenbaum Brenda
Miss Brauers Playground: The Missionary Venture and the Organization of Space. Presented at Conference on Gendered Landscapes: An Interdisciplinary Exploration...
conference presentation
Flad Mary M
Mississippian Village Textiles at Wickliffe
All you ever wanted to know about Native American fabric types and technology in southeastern North America during the millennium before the arrival of Europeans with data from the relatively few extant actual archaeological textiles and comparatively numerous impressions of fabrics on pottery. Presents in-depth research on fabrics produced 900...
book
Drooker Penelope B.
monographs on fiber animals and textile topics
I'm also putting together monographs on fiber animals and textile topics that I (slowly) make available through etsy (digital only) and MagCloud (print plus digital). Prices vary depending on the length of the piece and are the same regardless of the format (digital-only is to accommodate people who want to...
monographs
Robson Deborah
Moorman Inlay for Rigid Heddle Looms
Monograph on a double-heddle technique.
book
Searle Karen
'More of Survival than an Art: Comparing Late Nineteenth- and Late Twentieth-Century Lifeways and Weaving in Woven by the Grandmothers:...
chapter in edited book
Hedlund Ann Lane
More Tapestry Crochet 1st and 2nd Edition
book and ebook
Ventura Carol
Moroccan Feminism at the Grassroots Level. In Moroccan Feminisms: New Perspectives. Moha Ennaji Fatima Sadiqi and Karen Vintges Eds.
One of the artisans in Women Artisans of Morocco a button maker and grassroots feminist describes in fascinating detail her life the choices she's made and how she helps other women.
chapter in edited book
Davis Susan
My Little Loom Companion
book and ebook
Jennings Lucy
Nature Provides Dyes for Rainbows A Workshop Approach
book
Brack-Kaiser Carol Leigh
Navajo Weavers and Globalization: Critiquing the Silences. Textile Society of America Proceedings
article in journal
M'Closkey Kathy
Navajo Weavers of the American Southwest
book
Hedlund Ann Lane
Navajo Weaving from the Santa Fe Collection 1971-1996
book
Hedlund Ann Lane
Navajo Weaving in the Late Twentieth Century: Kin Community and Collectors
book
Hedlund Ann Lane
Navajo Weavings from the Andy Williams Collection
book
Hedlund Ann Lane
New Directions: Examining the Past Creating the Future Organized Session Touch and Technology Finding Binding Points: Design Development and the...
digital
Weiss Wendy
New Exchange Processes in the International Market: the Re-making of Maya Artisan Production in Guatemala
magazine
Rosenbaum Brenda
New Insights from the Archives: Historicizing the Political Economy of Navajo Weaving and Wool Growing. Textile Society of America Proceedings
article in journal
M'Closkey Kathy
no name
Many articles on palm reed and maguey baskets hats mats and bags for Revue magazine and Strands See my website.
magazine
Rousso Kathryn
NOVICA Navajo Knock-offs and the 'Net: a Critique of Fair Trade Marketing Practices. In: Fair Trade and Social Justice: Global...
chapter in edited book
M'Closkey Kathy
Oaxaca Stories in Cloth – A Book about People Belonging Identity and Adornment
book
Mindling Eric
On the Bayou – The Story of Acadian Brown Cotton in Selvedge Magazine Volume 76
article
Donnan Sharon Gordon
Pasar bien por la tierra: El tejido de vida de una mujer maya-tzotzil de Chiapas México
book
Eber Christine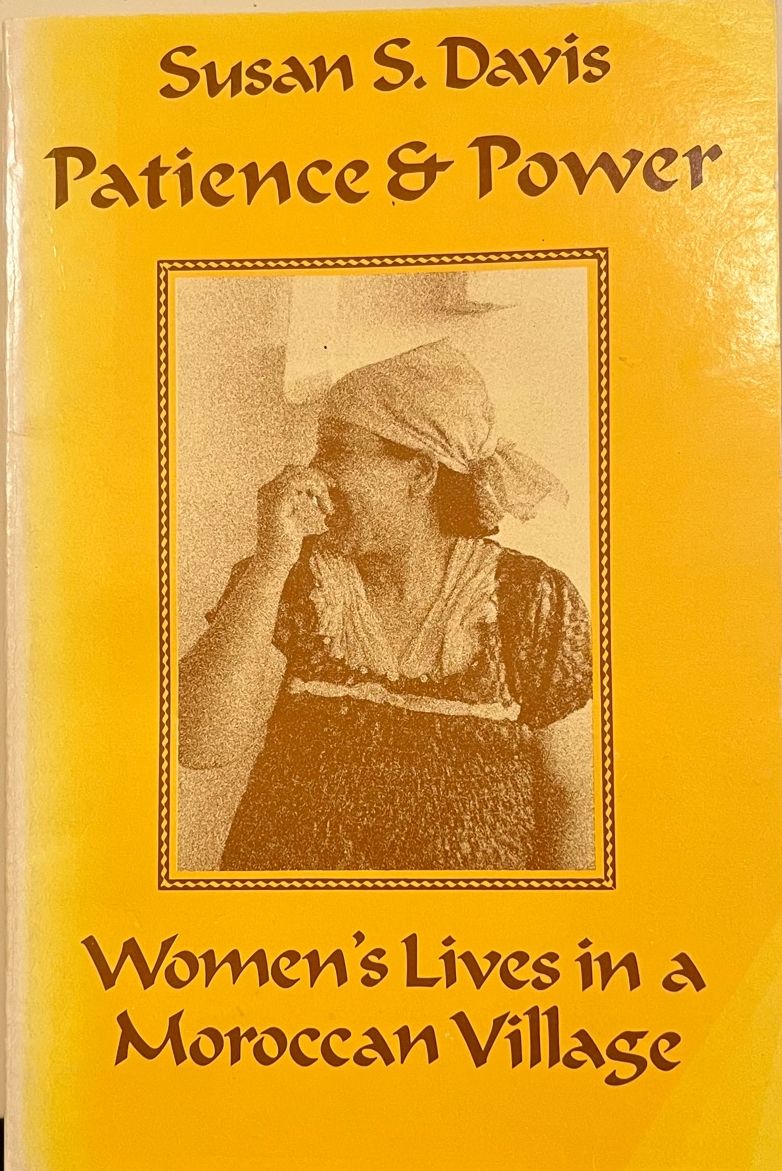 Patience and Power: Womens Lives in a Moroccan Village
Learn about all aspects of the lives of many rural Moroccan women in the 70s and 80s and some still today. See the ways in which they do have power in this patriarchal society and how they are patient until the time is ripe to use it. Out of print...
book
Davis Susan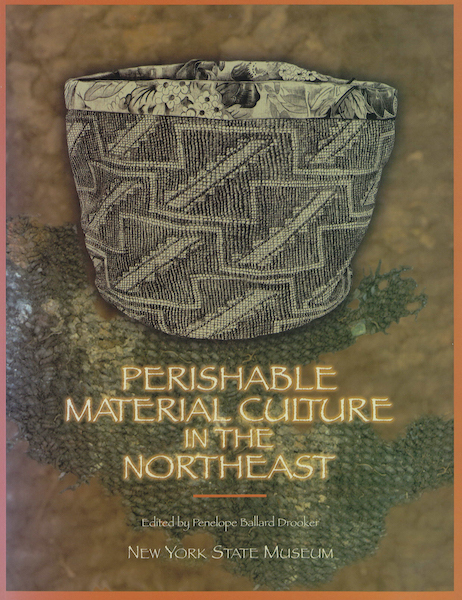 Perishable Material Culture in the Northeast
Objects made from perishable materials are typically rare and fragmented in the archaeological record of northeastern North America. This volume summarizes recent research and provides ten case histories of investigations and analyses of Native American and Euro-American perishable artifacts from archaeological and early historical contexts.
book
Drooker Penelope B.
Perspectives on Anthropological Collections from the American Southwest edited by Ann Lane Hedlund. Including: Material Anthropology: Connecting Academic Research and...
chapter in edited book
Hedlund Ann Lane
Pine Needle Basketry; an Introduction
Film and DVD
Romatka Marilyn
Poughkeepsies South Road: Its Past and Future. The Hudson River Valley Review Autumn 2010
article in journal
Flad Mary M
Recycled Reds: Raveled Insect-Dyed Yarns in Blankets of the American Southwest in A Red Like No Other: How Cochineal Colored...
chapter in edited book
Hedlund Ann Lane
Reflections of the Weavers World: The Gloria F. Ross Collection of Contemporary Navajo Weaving
book
Hedlund Ann Lane
Rug Money: How a Group of Maya Women Changed Their Lives through Art and Innovation
book and ebook
Wise Mary Anne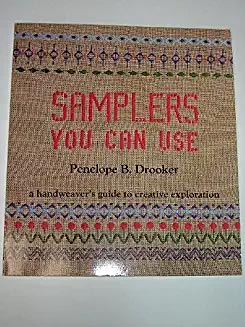 Samplers You Can Use: A Handweavers Guide to Creative Exploration
Provides design guidelines for using woven samplers - threading and treadling variations sett yarn sizes and types color etc. - as the basis for finished functional or fiber-art pieces. Out of print but I author has a few copies.
book
Drooker Penelope B.
Searching for Tapestrys Identity: Gloria F. Ross as Tapestry Editor. Shuttle Spindle & Dyepot 42(1)
article in journal
Hedlund Ann Lane
Secrets of Spinning Weaving and Knitting in the Peruvian Highlands
In the pages of this book the young weavers will be your teachers. They chose to share what they have learned with you out of the hope that it will help you develop a deeper respect for the complex patterns of knowledge that are contained in eachmethod of manipulating fiber...
book
Selvedge Magazine Latin America edition Issue 89
I wrote an article on the iconography of Chiapas textiles.
magazine
Schafer Norma
Shipibo – Movie of Our Memories
My research and writing focus on the production exchange & display of textiles in contemporary indigenous cultures & European medieval societies. With the Field Museum I worked for several years with Shipibo artists in Peru's Amazon and part of the production team of the movie Shipibo...Movie of our Memories. I...
Film and DVD
Feldman Nancy
Silk – The Magic of Metamorphosis
poster
Selk Karen
Silk Fusion
Silk Fusion is a unique process that bonds silk fibres into a lustrous kind of "felt" which can be gossamer and transparent or thick and opaque as leather. Eight projects are presented in the DVD each one demonstrating a different technique. Karen talks about silk fibre and shows the complete...
Film and DVD
Selk Karen
Silk Weavers of Hill Tribe Laos: Textiles Tradition and Well-Being
book
Hirschstein Joshua
Snapshots Along the Mekong: Handwoven Cloth in Northeast Thailand and Laos. WARP Newsletter vol.15 no. 1 (Spring 2008).
article in journal
Flad Mary M
Social responsibility in the global market: Fair trade of cultural products
Book was the first to introduce and assess the impacts of a fair trade model for conducting business with artisan-related enterprises.
book
Littrell Mary
Socks: A Spin-Off Special Publication for Spinners and Knitters ed.
Instructions for 20 different handspun handknitted socks including hiking socks knee socks lace socks and much more as well as notes on spinning choosing equivalent commercial yarns and techniques. (Note: This book contained among other delights Kathryn Alexander's amazing and original entrelac socks.) Out of print but available through various...
book
Robson Deborah
Speaking For or About Others? Evolving Ethnological Perspectives. Museum Anthropology 18(3)
article in journal
Hedlund Ann Lane
Spider Womans Children – Navajo Weavers Today
Barbara Teller Ornelas and Lynda Teller Pete are fifth-generation weavers who grew up at the fabled Two Grey Hills Trading Post. Their family and clan connections give them rare insight into where the craft has been and where it is going. They take you into traditional hogans remote trading posts...
book
Pete Lynda Teller
Spin to Weave
Spinning can add another dimension of creativity to handwoven fabrics. Fiber choices preparation yarn finishing and fabric finishing are all discussed. The book is highlighted with projects created from handspun yarns both by the author and by invited spinners who present handspun and handwoven projects from clothing to tapestry to...
book
Lamb Sara
Sudden Refugees: They Create Their Own Camps and Plead for Water and Schools; Worldview vol. 16 no.1 (January-March 2003)
article in journal
Flad Mary M
Swept Under the Rug: A Hidden History of Navajo Weaving
book
M'Closkey Kathy
Tapestry Crochet
book
Ventura Carol
Teaching Through Stories: Jane and Jeremy Learn to Knit
Share your knitting skills with the next generation of fiber enthusiasts! This book is for anyone who wants to teach knitting successfully: teach a neighbor's child your children your grandchildren a small group of homeschoolers a large class of children or anyone else! It's effective and fun to teach using...
book and ebook
Seward Elizabeth
Textile Ascendancies: Aesthetics Production and Trade in Northern Nigeria
The authors of this edited volume examine handwoven and manufactured textiles aesthetic preferences as well as textile production and trade in northern Nigeria. Available from University of Michigan Press website - $28.50 pbk currently 40% off sale.
book
Renne Elisha
Textile Fiestas of Mexico
chapter in edited book
Schafer Norma
Textile Fiestas of Mexico – A Travelers Guide to Celebrations Markets and Smart Shopping
This book is an excellent resource guide for select off-the-beaten-path locations and events that offer all the color joy and energy of Mexican folklife. Geared to independent-minded travelers it presents the safest and most accessible regional markets and artisan festivals and fairs in Mexico. Brautigam is an expert guide in...
book
Brautigam Sheri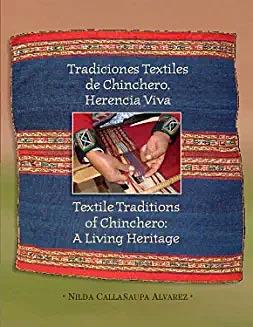 Textile Traditions of Chinchero: A Living Heritage
Published in cooperation with the Center for Traditional Textiles of Cusco this book details all aspects of textile traditions of the weavers of Chinchero Peru including the role of special textiles in the rituals and festivals of the community. Bilingual Spanish-English.
book
Textile Traditions of the Peruvian Highlands
Textile Traditions of the Peruvian Highlands a video with a plus. Designed as a live Zoom presentation for groups it includes both a video narrated by Jennifer Moore and the real time presence of one or two ATA members to field a Q&A. During this hosted program weavers dyers knitters...
Film and DVD
Andean Textile Arts Programs
Textiles and Politics Made in America – Yarns from the Heartland
digital
Weiss Wendy
'That they be in the middle Lord: Women Weaving and Cultural Survival in San Pedro Chenalhó in Artisans and Cooperatives:...
chapter in edited book
Eber Christine
'That We May Serve Beneath Your Hands and Feet: Women Weavers in Highland Chiapas in Crafts in The World Market:...
chapter in edited book
Eber Christine
The Art and Science of Natural Dyes
During the last 12 years my work has been focused on a deep-dive research of natural dye processes and applications that are practical and safe for the contemporary dyer. My collaborator Joy Boutrup is a Danish dye chemist and engineer. She and I have focused this research and made possible...
book
Ellis Catharine
The Art of Tapestry Weaving: A Complete Guide to Mastering the Techniques for Making Images with Yarn
An in-depth guide to every aspect of the process from developing a color palette to selecting yarn warping the loom and weaving the image. Weavers can choose from inexpensive tabletop and hand-held looms to larger floor looms. Detailed step-by-step photos and inspiring examples from a range of weaver-artists make this...
book
Mezoff Rebecca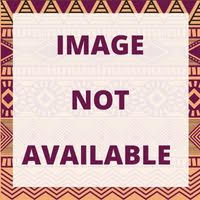 The Barberini Tapestries: woven monuments of Baroque Rome – Tapestry demonstrations at the Cathedral of St. John the Divine. Tapestry...
article in journal
Shadur Tamar
The Barbers of Burnham: A New Breed of Navajo Weaver. Persimmon Hill 25(4)
article in journal
Hedlund Ann Lane
The Best of Weavers series
These books are each a collection of the articles that appeared in Weaver's magazine that cover the topics indicated in the titles. Each book comprises a comprehensive study available nowhere else including theory drafting and designing weaving and finishing and beautiful illustrative projects to learn from. Huck Lace The Magic...
book
van der Hoogt Madelyn
The Complete Book of Drafting
The Complete Book of Drafting covers all the basic weave structures and how to draft and design them. Part I covers twills and color-and-weave effects Part II covers overshot. Part III all the major block weaves that can be used with profile drafts (lace weaves damask tied unit weaves doubleweave...
book
van der Hoogt Madelyn
The Field Guide to Fleece: 100 Sheep Breeds and How to Use Their Fiber
This is a pocket guide to one hundred sheep breeds and their fiber. Profiles include photos of the animals and quick information about their origins and conservation status as well as summary data about fleece weight staple length fiber diameter and natural colors.
book
Robson Deborah
The First Ladys furniture factory in Options Unltd. Spring 1999
article in journal
Flad Mary M
The Fleece & Fiber Sourcebook: More than 200 Fibers from Animal to Spun Yarn
Don't drop this one on your foot. It's 4 pounds of information on fiber animals - everything we could get our hands on (i.e. available at the time to English-speaking fiber folk). It includes pictures of animals information on their history and conservation status and fiber statistics and sample unspun...
book
Robson Deborah
The Handicrafts of Gujarat
59 minute documentary video program by Marilyn Romatka. Travel to India in this multi-media presentation. We weavers delight in items crafted by the human hand and the traditional crafts found in the state of Gujarat are a wealthy inheritance all makers can enjoy. Weaving techniques pit looms silk and camels...
Film and DVD
Romatka Marilyn
The Journey of a Tzotzil-Maya Woman of Chiapas. Mexico: Pass Well Over the Earth
In her life story Flor de Margarita ("Antonia") relates her experiences learning to weave teaching her daughters to weave and organizing women weavers in her community into cooperatives. In one chapter Flor de Margarita tells the story of traveling to the International Folk Art Market in Santa Fe NM in...
book
Eber Christine
The Politics of Pastoralism: Navajos Churros and the Challenges of Sustainability in a Globalizing World. Textile Society of America Proceedings
article in journal
M'Closkey Kathy
The Practical Spinners Guide to Spinning Silk
An overview of what silk preparations are available to the handspinner how to spin and finish yarns made from silk and how to use them in a variety of projects shown made by both the author and invited makers in woven knit embroidery and crochet techniques.
book
Lamb Sara