NOTA: puede ver la historia en español abajo del inglés.
Tejedoras Maya Mam is a cooperative of 26 women in the municipality of Cajolá, Quetzaltenango, in the highlands of Guatemala. The cooperative was born through the work of Grupo Cajolá, a group of undocumented immigrants that was organized in 2000 in the town of Morristown, NJ to watch out for each other after the death of a young man from Cajolá. When the members of Grupo Cajolá in Morristown began to return to their community, they returned with the dream of organizing the community of Cajolá to work on the development of their town so that one day there would be no more forced migration. Cajolá is a town of 18,000 people, of which 7,000 live in the United States. This results in a serious social disintegration, particularly in the family.
The group began to work in Cajolá in 2005. Working with groups of women, the idea arose to start businesses as a solution to the problem of poverty. (90% of Cajolá lives in poverty, and 66% of the children are chronically malnourished. We began with an egg farm and a weaving project. The men in Cajolá criticized us for having women working. But after the collapse of the economy in 2008 they decided to start a carpentry business. Now we have three economic projects where the workers are the owners of the businesses.
Education is the other important thrust of our work. We began a scholarship program in 2006 with the help of the Maya Educational Foundation of the U.S. In addition, we now have a program "Helping with Homework" that assists 50 students from the local primary school in improving their skills. We also have "Sunday Reading Circle" to help instill the love of reading in young people.
In the weaving project, one group of women wanted to learn how to weave on the foot loom, another group learned how to sew on the sewing machine. After the trainings in weaving and sewing, we combined the two groups, added some backstrap weavers, and Tejedoras Maya Mam was born. They began with simple products, and little by little the women improved their skills.
We organized Mayamam Weavers in the U.S. to develop a market for the products of Tejedoras Maya Mam. The idea was to develop a market that would make it possible to pay a fair wage, and today Mayamam Weavers is a new member of WARP and a member of the Fair Trade Federation.
Due to lack of opportunity, more than a half of the women in Cajolá are illiterate. That is a serious weakness when you are managing a business! The illiterate women had to study literacy during their work days. But, after several years, it was the entrance of some women who had already had academic education that allowed Tejedoras Maya Mam to being the work of managing the business themselves.
From the beginning, all of the women have been working together in one space, not in their houses. This facilitated the interactions among the women and resulted in the formation of the Marketing and Sales Council that now is managing the cooperative! They have learned how to develop products, analyze costs, set prices, and coordinate the work. Something very important has been that during the passing of the years the women learned how to make high quality products. There is a coordinator that reviews the quality of all of the products before they are sold. She is a member of the cooperative, something a bit unusual in the culture of Cajolá, that someone in the community could criticize the work of her colleagues.
With the vision of developing the community, Grupo Cajolá has offered training to the women. When the foot loom weavers learned to weave with 4 shafts, i.e. more complex patterns, that opened up new markets, including selling fabric by the meter to various designers. A training in tie dying yarn for jaspe (ikat) will be underway soon.
Grupo Cajolá also offers a scholarship program that is available for any member (or their family) at any level of study who wants to continue to study. One of our seamstresses took advantage of a scholarship to complete her middle school studies, and now she is studying fashion design. This resulted in her accepting a new position as coordinator of New Products. The team of Tejedoras Maya Mam is strong!
Grupo Cajolá opened a preschool in 2012 to take care of the children of the women working in the cooperative; (now it is open to the whole community of Cajolá.) The preschool is based in the philosophy of Reggio Emilia, the preschools in Italy that are considered by UNESCO to be the best in the world. There is an emphasis on the interests of the children and in involving the parents in their education. This has resulted in big changes in the family of the students, and therefore in Cajolá.
At this time, we can say that we have not stopped forced migration, but yes, we are changing lives. And there are some people who now have hope that there is a future for their families in Cajolá, working in Tejedoras Maya Mam.
Web page for Mayamam Weavers: www.mayamamweavers.com
Web page for Grupo Cajola: www.grupocajola.org
Blog Author CARYN MAXIM is the Coordinator of Grupo Cajolá in the U.S. She has been involved with Grupo Cajola since 2002, traveling monthly to Cajolá since 2005. She is also responsible for the development of Mayamam Weavers in the US.
---
Tejedoras Maya Mam de Guatemala
Tejedoras Maya Mam es una cooperativa de 26 mujeres en el municipio de Cajolá, Quetzaltenango, en el altiplano de Guatemala. La cooperativa nació por el trabajo del Grupo Cajolá, un grupo de migrantes indocumentados que se organizó en Morristown NJ en el año 2000 para velar para sus compañeros después del fallecimiento de un joven de Cajolá. Cuando los miembros de Grupo Cajolá en Morristown empezaron a regresar a su comunidad, volvieron con el sueño de organizar a la comunidad de Cajolá para trabajar en el desarrollo de esta y un día parar la migración forzada. Cajolá es un pueblo de 18,000 habitantes, de cuales 7,000 viven en los EE.UU. Esto deja una desintegración familiar y social muy fuerte.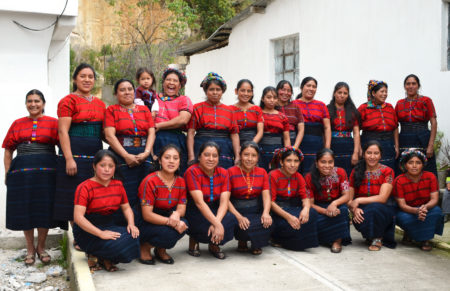 El grupo inicio el trabajo en Cajolá en el año 2005 al abrir el primer centro de internet en Cajolá. Trabajando con grupos de mujeres salió la idea de arrancar empresas como una solución a la pobreza. (90% del pueblo de Cajolá vive en pobreza, y 66% de los niños tienen desnutrición crónica.) Iniciamos con un proyecto de gallinas ponedoras y otro en tejer. Los hombres de Cajolá nos criticaron por tener mujeres trabajando. ¡Pero después de la caída de la economía del año 2008 los hombres decidieron arrancar una empresa de carpintería! Ahora hay tres proyectos económicos donde los trabajadores son los dueños de las empresas.
La otra rama importante es la educación, y se inició un programa de becas en el año 2006 con el apoyo de Maya Educational Foundation de los EEUU. Ahora tenemos un programa "Ayudando con las Tareas" que trabaja con 50 niños de la escuela primaria para mejorar sus habilidades y "El Circulo de Lectura" los domingos para desarrollar la habitud de leer con los jóvenes.
En el proyecto de tejer, un grupo de mujeres quería aprender a tejer en telar de pie y otro grupo aprendió coser a máquina. Después de las capacitaciones en tejer y coser, en el año 2008 combinamos los dos grupos, agregamos unas tejedoras de telar de cintura, y fue así como nació Tejedoras Maya Mam. Se inició con productos sencillos, y poco a poco las mujeres mejoraban sus habilidades.
Se organizó Mayamam Weavers en los EE.UU. para desarrollar el mercado en los EE.UU. para los productos de Tejedoras Maya Mam. La idea fue desarrollar el mercado en los EE.UU. para poder pagar un salario justo. (Hoy Mayamam Weavers es miembro nuevo  de WARP y es miembro de la Fair Trade Federation.)
Por falta de oportunidad, más que mitad de las mujeres en Cajolá son analfabetas. Esto es una debilidad grave para dirigir una empresa. Las mujeres analfabetas tuvieron que estudiar alfabetización dentro de sus días de trabajo. Pero, después de varios años, fue la entrada de unas mujeres ya con educación académica que permitió Tejedoras Maya Mam empezar el trabajo de manejar la empresa ellas mismas.
Desde el inicio, todas han estado trabajando juntos en un espacio, no en sus casas. Esto facilitaba los intercambios entre ellas y que resultó en la formación del Consejo de Mercadeo y Ventas que ahora maneja la cooperativa. Han aprendido como desarrollar productos, analizar los costos, poner los precios, coordinar el trabajo. Algo importante ha sido que en el transcurso de los años las trabajadoras aprendieron a trabajar buena calidad de productos. Hay una coordinadora que revisa la calidad de todos los productos antes de la venta. Ella es miembro de la cooperativa, algo un poquito raro en la cultura de Cajolá, ¡que alguien de la comunidad pueda criticar el trabajo de sus compañeras!
Con la visión del desarrollo de la comunidad, Grupo Cajolá ha proporcionado varias capacitaciones para las mujeres. Cuando las tejedoras del telar de pie aprendieron a tejer con 4 pedales se abrieron nuevos mercados, y se venden tejidos por metro a varios diseñadores. Una capacitación en teñir hilo para jaspeado (ikat) está planificado por este mes de septiembre.
Grupo Cajolá ofrece un programa de becas que está disponible para personas de cualquier nivel educativo que tenga ganas estudiar. Una de nuestras costureras aprovechó de una beca para terminar sus estudios de básico, y ahora está estudiando diseño de moda, ¡resulta que ella es la Coordinadora del Desarrollo de Nuevos Productos! ¡El equipo de Tejedoras Maya Mam es fuerte!
Grupo Cajolá abrió una escuelita infantil en el año 2012 para cuidar a los niños de las mujeres trabajadoras (ahora está abierta a toda la comunidad de Cajolá). La escuelita es basada en la filosofía de Reggio Emilia, las escuelitas de Italia que considera UNESCO las mejores en el mundo. Hay un énfasis en los intereses de los niños, y en involucrar a los padres en la educación. Esto resulta en cambios fuertes dentro de las familias de los alumnos, y entonces también en Cajolá.
En este momento podemos decir que no hemos parado la migración, pero sí, estamos cambiando vidas. Hay unos que ahora tienen esperanza que hay un futuro para sus familias en Cajolá, trabajando en Tejedoras Maya Mam.
Página de web de Mayamam Weavers: www.mayamamweavers.com
Página de web de Grupo Cajola: www.grupocajola.org
Autor: Caryn Maxim es la coordinadora de Grupo Cajola en los EEUU. Ella ha estado involucrada con Grupo Cajola desde el año 2002, viajando mensualmente a Cajola desde 2005. Ella es responsable para el desarrollo de Mayamam Weavers en los EEUU.