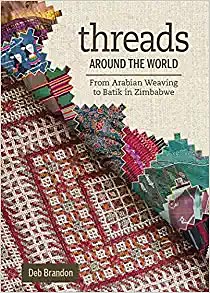 Threads Around the World – From Arabian Weaving to Batik in Zimbabwe
Author:
Deborah Brandon
Category:
Book
Publisher: Schiffer Publishing Ltd
Published: 2018
Description:
---
Handmade textiles are personal, no matter where in the world they're created, and these photos and explanations of 25 diverse world cultures' techniques vividly share the details. Take a voyage through the pages to see how today's artisans continue to create traditional fiber arts with age-old methods. Blending well-researched information, engaging style, and inspiration, Brandon shares fascinating stories about region-specific crafts – for example, espadrilles, flatwoven rugs, mittens, voudou flags, mirror embroidery – and the histories they hold. This open-eyed approach offers new ideas for textile devotees and for anyone who's interested in heritage crafts and cultures. https://debbrandon.com/
https://m.facebook.com/deb.brandon.author/?ref=bookmarks
Other Books From - Book
Other Books By - Deborah Brandon
No Books Available!
Back